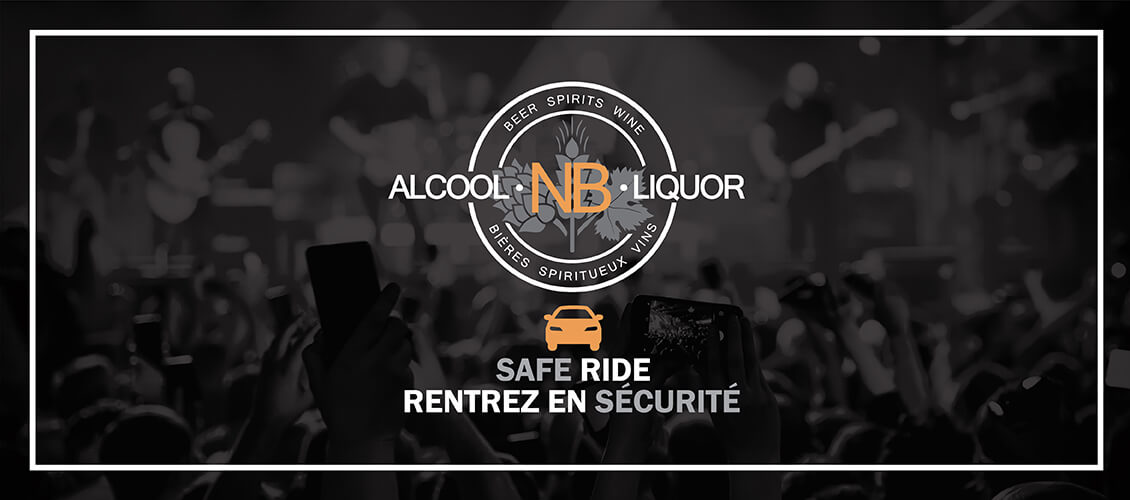 YOU CAN GET HOME SAFELY – FOR FREE!
We care about you and the safety of our communities. That's why our Safe Ride Program offers FREE transportation to get you home safely at ANBL-sponsored events.
Hop on one of our designated Safe Ride buses, taxis, or shuttles (the transportation changes depending on the event) at the end of your night at no charge to you and let us take care of the driving.
Look for us on the ground at many events around New Brunswick and plan to get yourself - and your crew - home safely.
We're proud to be your designated driver at the following upcoming ANBL sponsored events:
---

NB Spirits Fest
Fredericton
November 14 - 18
Canada's oldest whisky (and spirits) festival is back again with a full 5-day slate of events, including dinners, master classes, our Friday Showcase, the on-site ANBL store and exclusive Saturday master classes - all featuring our world class presenters.
---
Atlantic Canadian Craft Brew Fest
Moncton
November 18
The Moncton Beer League is proud to bring you the eighth Cox & Palmer Atlantic Canadian Craft Brew Fest on Saturday, November 18, 2023 at the Moncton Coliseum to support United Way of Greater Moncton and Southeastern New Brunswick! This event is produced by AMBER EFFECT EVENTS to showcase local Atlantic Canadian products including craft beer, mead, cider and some food, all while raising funds for United Way during their 2023 campaign. For more information, go to the Amber Effect website.
---
2024 EVENTS

World Pond Hockey
Plaster Rock
February 15, 2024
One of New Brunswick's leading winter sporting and tourism events for two decades, the event grows each and every year and is now host to 120 teams from all over the world. In addition to the hundreds of hockey enthusiasts that travel to Plaster Rock each February to compete, the event also attracts thousands of spectators and media to our province from all corners of the globe.
---
Moncton Spirits Festival
Moncton
February 16 - 17, 2024
The Moncton Spirits Festival returns with a bigger program & line-up than ever! The Private Tasters Whisky Ball, New Brunswick Bartender Wars, VIP Whisky Dinner Experience, The Grand Tasting Gala, the 1st Annual New Brunswick Craft Spirits Awards, and much more! For tickets and info visit spiritsfestmoncton.com.
---
Fredericton Craft Beer Festival
Fredericton
March 8 – 9, 2024
The Fredericton Craft Beer Festival was launched in 2013 and has quickly become one of the fastest growing festivals in New Brunswick. Each year, FCBF brings together the largest selection of local beer available on the East Coast. Since it was founded, FCBF has grown exponentially and hosted sold out events that have grown and evolved right along with the industry.
ANBL Safe Ride sponsorships help guests get home safely from events across the province. For more details, and to see if your event qualifies, check out our Event Sponsorship Handbook.