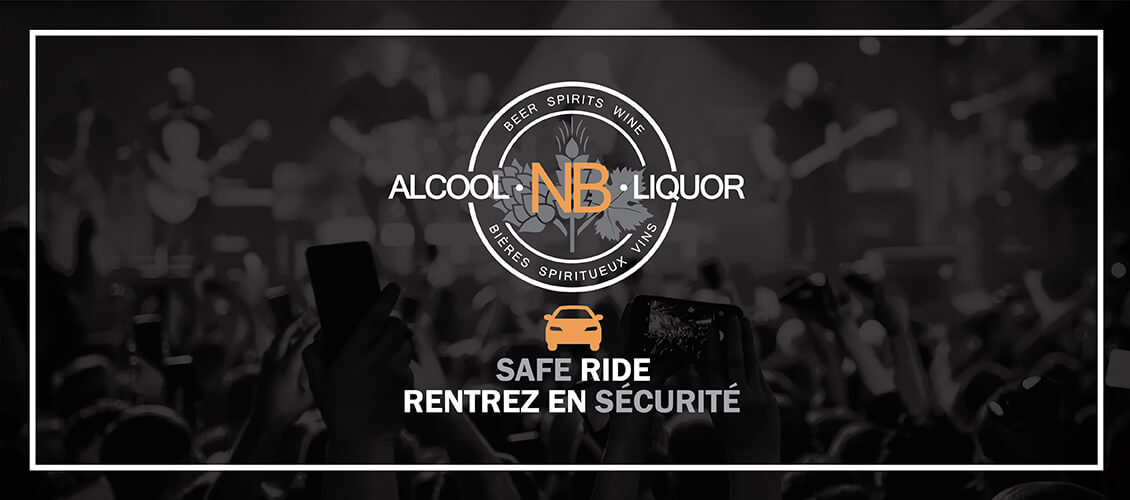 YOU CAN GET HOME SAFELY – FOR FREE!
We care about you and the safety of our communities. That's why our Safe Ride Program offers FREE transportation to get you home safely at ANBL-sponsored events.
Hop on one of our designated Safe Ride buses, taxis, or shuttles (the transportation changes depending on the event) at the end of your night at no charge to you and let us take care of the driving.
Look for us on the ground at many events around New Brunswick and plan to get yourself - and your crew - home safely.
We're proud to be your designated driver at the following upcoming ANBL sponsored events:
Paddlefest
St. Andrews
May 19 - 20
Paddlefest is a Music & Outdoor Recreation Festival in the small seaside community of St. Andrews, New Brunswick. The 4-day festival combines music, art, recreational and environmental activities such as kayaking, hiking & beach clean ups for a long weekend of fun for music lovers and adventure seekers alike!
---

East Coast Beverage Convention
Moncton
May 27
East Coast BevCon, a convention celebrating the variety of drinks offered across Atlantic Canada, and beyond. The festival will feature a roster of more than 40 vendors, including both micro and "macro" brewers, and regional and international producers offering ciders, seltzers and coolers, and ready-to-drink products.
---
FestiVin
Caraquet
June 2 - 3
The FestiVin de Caraquet wine festival is an absolute must in New Brunswick.
For nearly 25 years, we have been offering a number of wine education activities while highlighting New Brunswick's local gastronomy and products. You will be treated to an exceptional selection of wines, seafood, and local products. Come rediscover the pleasure of the senses through this event as part of the 2023 edition of La Grande virée gourmande!
---
Grand Falls Potato Festival
Grand Falls
June 30 - July 1
The Grand Falls Regional Potato Festival has been going strong for 61 years! This popular event, open to locals and visitors alike, is packed with wonderful and exciting activities, with an array of varied entertainment appealing to all ages. The regional Potato Festival is a super-friendly celebration in a relaxed and informal surrounding. It is certainly an event not to be missed!
---
Big Axe Craft Beer Festival
Nackawic
July 15
The largest outdoor craft beer festival in Atlantic Canada features dozens of producers from Atlantic Canada and beyond! Plus, catchy live music under the big tent and trendy food trucks.
---
Shellfish Festival
Bouctouche
July 21 - 22
The Bouctouche Shellfish Festival will be taking place from July 15 to 23, 2023! If you're a fan of great seafood, music and outdoor activities, this event is a must. Come see us, eh?
---
Boxcar Country Music Fest
Saint John
July 28 - 29
Boxcar Country Music Festival will take place on the Saint John waterfront, and feature an exciting lineup of top Canadian country music artists supported by New Brunswick fan favourites and homegrown talent.
In addition to the ticketed evening shows, the team at AREA 506 is thrilled to offer a weekend of free, family-friendly programming in the Waterfront Container Village — lassoing, knot-tying and line-dancing workshops are just the beginning.
---
Blues d'la Baie
Petit-Rocher
July 27 - 29
From July 27 to 29, let yourself be carried away by the rhythm of blues and the sea! The Blues d'la Baie Festival will make you fall in love with Acadian hospitality, the Baie des Chaleurs region and the culture of Petit-Rocher.
---
AREA 506
Saint John
August 4 - 5
The AREA 506 Festival takes place every year over the New Brunswick Day long weekend, and features the best of our province's music, culture, and goods.
The Waterfront Container Village creates the backdrop for a diverse group of vendors, brands and cultural groups to truly showcase the energy and ingenuity of our province's artisans, craftspeople and musicians.
---
Festival Royal
Edmundston
August 4 - 5
An event not to be missed!
The Festival Royal is a musical event held annually in late July/early August in Edmundston, New Brunswick.
This electronic music and rock show festival takes place in downtown Edmundston directly on Canada Road! Colorful events and experiences take place over two consecutive days!
Come celebrate and have fun on August 4 and 5, 2023!
---
Festival Acadien
Caraquet
August 12 - 15
National Acadian Day!
---

Fundy Sea Shanty Festival
St. Martins
August 11 – 12
This international festival, the only one of its kind in Atlantic Canada, is anchored in the quaint fishing village of St. Martins, New Brunswick, Canada.
Join us as we celebrate the stories and songs of the sailors who helped forge nations during the age of sail through an exciting lineup of fun, food, and (most importantly) music. Come sing along as we set sail once again in August 2023!
---
KV Music Fest
KV
August 31 - Sept 1
Celebrating its 17th year, the KV Music Festival is ready to fill the Kennebecasis Valley with live music and great times to celebrate the end of the summer. With three nights of amazing entertainment, food, and friends, you're guaranteed to tap your toes, sing at the top of your lungs, and dance like you've never danced before!
---

Harvest
Fredericton
September 14 - 16
The Best International Festival Experience on Canada's East Coast!
Fredericton comes alive for six days each September as hundreds of world class performers appear on dozens of stages, all conveniently located in Fredericton's beautiful and historic downtown.
Whether you want to dance all night at a spicy Cajun party, listen to the raw sounds of electric blues, sway to some smooth jazz or just get your funk on, you'll find something to tempt every musical taste – all at a price that's easy on the wallet.
---
Atlantic Canadian Craft Brew Fest
Moncton
October 7
The Moncton Beer League is proud to bring you the 7th Atlantic Canadian Craft Brew Fest October 7, 2023 at the Moncton Coliseum to support United Way of Greater Moncton and Southeastern New Brunswick! This event is produced by Amber Effect Events to showcase local Atlantic Canadian products including craft beer, cider, mead and food, all while raising funds for United Way. #ACCBrewFest
---
Indulge
St. Andrews
October 13 - 14
With something for everyone, this food and wine festival will not disappoint. Spoil your senses with activities such as the "Taste of St.Andrews", Music and Art, Wine Trail, the amazing "Harvest Feast" at Kingsbrae Garden and so much more!
---
WWFE
Moncton
November 3 - 4
This year is the 33rd Expo, which offers over 300 different wines for tasting. It's Atlantic Canada's #1 wine and food event.
In addition to trying hundreds of wines, be sure to stop by and taste delicious snacks & samples to stimulate your taste buds while you're at the grand tasting sessions!
---
NB Spirits Fest
Fredericton
November 17
Canada's oldest whisky (and spirits) festival is back again with a full 5-day slate of events, including dinners, master classes, our Friday Showcase, the on-site ANBL store and exclusive Saturday master classes - all featuring our world class presenters.
---
2024 EVENTS

World Pond Hockey
Plaster Rock
February 15 – 17, 2024
One of New Brunswick's leading winter sporting and tourism events for two decades, the event grows each and every year and is now host to 120 teams from all over the world. In addition to the hundreds of hockey enthusiasts that travel to Plaster Rock each February to compete, the event also attracts thousands of spectators and media to our province from all corners of the globe.
---
Fredericton Craft Beer Festival
Fredericton
March 8 – 9, 2024
The Fredericton Craft Beer Festival was launched in 2013 and has quickly become one of the fastest growing festivals in New Brunswick. Each year, FCBF brings together the largest selection of local beer available on the East Coast. Since it was founded, FCBF has grown exponentially and hosted sold out events that have grown and evolved right along with the industry.