You could keep it simple and grab a bottle of wine but why not take it up a notch? Shake it up this Valentine's Day with one of these simple but fancy looking cocktails that are sure to impress whoever you're spending the evening with.


Strawberry Surprise


2 oz SMIRNOFF CITRUS TWIST 750ML
2 strawberries, sliced
2 leaves of basil, torn
1/2 oz lemon juice
3/4 oz simple syrup

In a cocktail shaker filled with ice, combine all ingredients. Pour into a cocktail glass and garnish with basil leaf.



Spicy Cucumber Martini


3 slices cucumber
1 pea size dollop of wasabi paste
1/2 oz simple syrup
1 1/2 oz STAR OF BOMBAY 750ML
1/2 oz lime juice

In a cocktail shaker, muddle cucumber slices, wasabi and simple syrup. Fill with ice and add gin and lime juice. Shake well and strain into a martini glass. Garnish with a cucumber ribbon.  
Beer Fashioned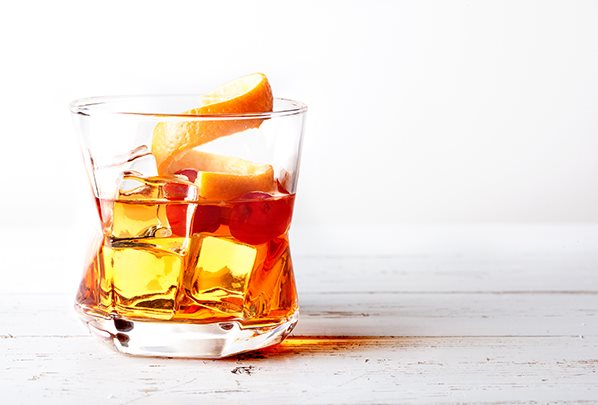 1 oz MAKERS MARK 750ML
2 oz ERDINGER WEISSBIER 500ML B
2 dashes Angostura bitters
1 tsp brown sugar
Orange twist

In a rocks glass, add brown sugar and bitters. Add bourbon and muddle until sugar dissolves. Add ice and top with beer. Squeeze the orange twist over the drink and drop in glass.



Blood Orange Campari Cocktail

Juice of 1 blood orange
1/2 oz Campari
TENUTA SANT' ANNA PROSECCO EXTRA DRY DOC 750ML

Add blood orange juice to a Champagne flute. Add Campari and stir. Top with Prosecco and garnish with a slice of blood orange.

Chocolate Martini


2 oz Irish cream liqueur
2 oz crème de cacao
1 oz TITOS HANDMADE VODKA 750ML

Add all ingredients to a cocktail shaker filled with ice. Shake and strain into a martini glass.

For an extra special touch dip the rim of a martini glass into chocolate sauce and then chocolate shavings.
Berry Cider Sparkler

4-5 fresh raspberries
1/2 oz lemon juice


In a cocktail glass, muddle raspberries and lemon juice. Top with cider and garnish with fresh raspberries and mint.


Elderflower Spritz
1 1/2 oz elderflower liqueur
1/2 oz lemon juice


Add elderflower liqueur and lemon juice to a cocktail glass filled with ice. Stir to combine. Top with sparkling wine and garnish with a sprig of fresh lavender and a slice of lemon.


We also have a tasty non-alcoholic mocktail:

Grapefruit Mojito


1/4 pink grapefruit, peeled and cut into small pieces
2 tbsp honey
10 fresh mint leaves, torn
1/4 cup pink grapefruit juice
Club soda

In a cocktail shaker, muddle grapefruit pieces, honey and mint. Add ice and grapefruit juice. Shake and pour into a glass and top with club soda. Garnish with slices of grapefruit