What's on the menu tonight? May we suggest starting your planning with what's in your glass? It's true! The right food and drink pairing can bring your meal from good to great. Without a good pairing, there is too much deliciousness at stake. Your beverage choice has a serious impact on the flavor of your food, and vice versa. Some folks think pairings are for "snobs", but answer this: would you put garlic pesto on your brownie? Or would you put berries and raspberry sauce?
Some flavours just don't mix, and the principle holds true for your drink choice. We've prepared some of our favourite seasonal pairings to get you rolling on your pairing pilgrimage. The ANBL Team at your local store would LOVE to discuss any of your flavor ideas. So explore some of the products below and EAT THIS, DRINK THAT!
EAT THIS:
Summer salads
DRINK THAT:
THE EXPERIENCE:
Try a light salad with fruit like mandarin oranges or red grapes.
EAT THIS:
Aged cheddar
DRINK THAT:
THE EXPERIENCE:
A nice sharp aged cheddar works well to balance out a slightly smokey single malt scotch.
Pair it with:
Bowmore No 1 750ml
Now: $54.99
Save: $5.00
EAT THIS:
BBQ chicken
DRINK THAT:
THE EXPERIENCE:
MEDIUM CIDERS are the perfect choice to serve with poultry. Try them with your favourite BBQ chicken recipe!
EAT THIS:
Sweet desserts
DRINK THAT:
THE EXPERIENCE:
COOLERS are great with dessert! Try pairing sweet, traditional coolers with strawberry shortcake, or not-so-sweet coolers with sorbet.
EAT THIS:
Bacon cheeseburgers
DRINK THAT:
THE EXPERIENCE:
This full-bodied red makes a great pairing with a nice greasy burger!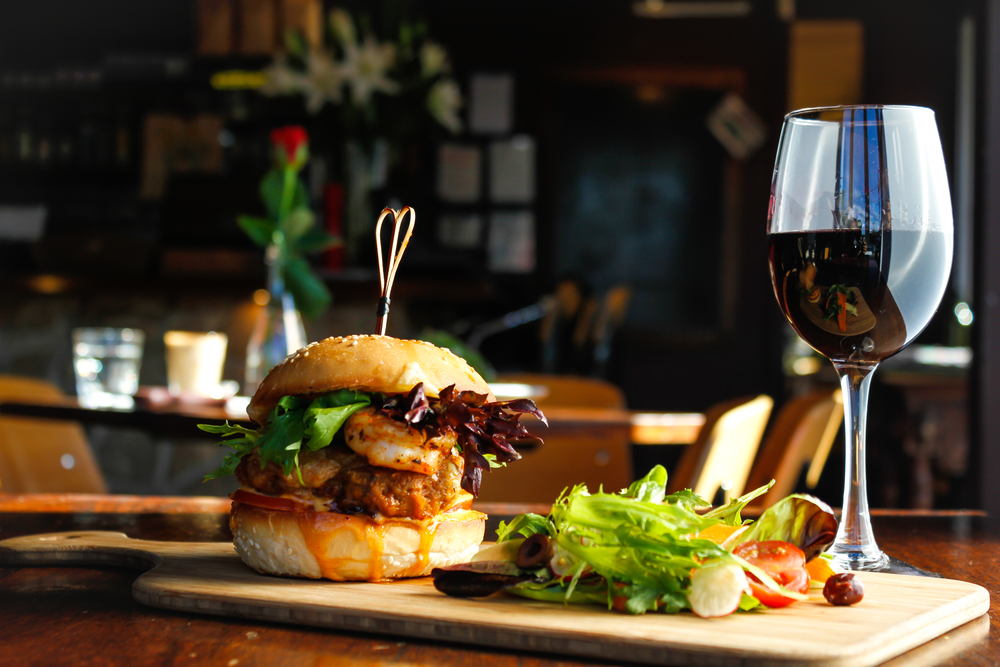 EAT THIS:
Fish & Chips
DRINK THAT:
Tom Collins Cocktail
THE EXPERIENCE:
Make a Tom Collins:
2 oz gin
¾ oz lemon juice
¾ oz simple syrup
Soda water
Shake gin, lemon juice, and simple syrup over ice. Strain into a tall glass filled with ice. Top with soda water, stir, and garnish with a lemon slice and a cherry.

Make it with:
Bulldog London Dry 750ml
Now: $28.29
Save: $2.50
EAT THIS:
BBQ pork chops
DRINK THAT:
Sterling Vintners Collection Pinot Noir
THE EXPERIENCE:
Pinot noir and BBQ pork chops share a smoky undertone and slight sweetness that make them a great pair.