Summer is here in full force, and we modest New Brunswickers don't ask for much. Just make sure the grill is hot and the beer is cold! We've prepared the Ultimate Beer and BBQ Menu to help you prepare and pair the best grilled recipes with their perfect beer companion. Check out our full menu below, and head to a store where an ANBL team member would love to help you find these pairings and other great summer drinks!
Starter: MUSSELS & ALE
Recipe: Garlic Sriracha Beer Steamed Mussels
½ cup unsalted butter

5 cloves garlic, smashed

1 teaspoon salt

½ teaspoon smoked paprika

1 teaspoon sriracha

1 cup pale ale

½ cup chicken broth
1 lbs mussels, cleaned

In a large pot or deep skillet add the butter and cook until melted. Stir in the garlic, salt, paprika, sriracha, beer and chicken broth, stir to combine and bring to a low simmer. Add the mussels, cover and allow to cook until mussels have opened, about 5 minutes. Discard any that didn't open. Serve with crusty bread.

Pairing:
Main Course: STEAK & Stout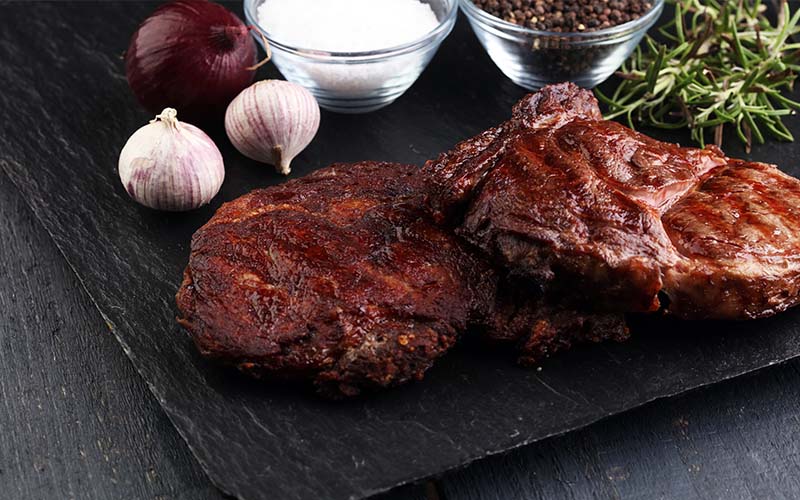 Recipe: Beer Steak
4 (1/2 pound) rib-eye steaks

2 tablespoons sea salt

2 tablespoons lemon pepper

2 cans beer of choice

Place the steaks in a large, shallow container with a lid. Season each side of the steaks with the salt and lemon pepper. Gently pour the beer over the steaks (making sure the seasoning doesn't wash off). Cover, and refrigerate for 1 to 2 hours. Preheat grill for high heat. Lightly oil grill grate. Place steaks on grill, and discard beer marinade. Cook for 5 minutes per side, or to desired doneness.

Pairing:

Murphy's Stout
Dessert: CUPCAKES & SHANDY
Recipe: Summer Shandy Cupcakes
3/4 cup unsalted butter, at room temperature
1-3/4 cup sugar
2-1/2 cups flour
2 tsp baking powder
1/2 tsp salt
3 eggs, at room temperature
1 tsp vanilla
1/2 tsp lemon zest
1 cup Leinenkugel
1/4 cup milk
1 tsp Crystal Light Lemonade powder
Lemon wedges for garnish
Preheat the oven to 375 degrees and line 24 muffin tins with cupcake liners. In a medium bowl, whisk together the flour, baking powder, and salt. In a separate bowl, beat together the butter and sugar until light and fluffy. Add eggs, vanilla and zest. In another bowl, combine milk, beer, and lemonade powder and slowly add this mixture and the flour mixture. Then combine with butter/sugar mixture and mix well. Divide among cupcake liners and bake for 18 minutes, or until cake tester comes out clean. When cupcakes are done, poke holes in the tops of the cupcakes with toothpicks or a fork and lightly brush more Leinenkugel on each while still warm. When cooled, top with cream cheese frosting.
Pairing: