Nothing is better than warm days, cool nights, and even cooler products. Summer is definitely here, but New Brunswickers know it's never here to stay (we don't dare say the "W" word). As much as a year-round Summer sounds nice, there's something special about rushing out to savour every sunny weekend.
Our favourite summer products have finally hit shelves, and we think the best way to enjoy them is outdoors alongside classic BBQ meals and summer treats. The ANBL Team at your local store would LOVE to discuss any of your flavor ideas. So explore some of the products below and EAT THIS, DRINK THAT!

Grilled Corn Salsa
3 ears of corn
1 cup tomatoes, chopped
1/3 cup onion, chopped
1/4 cup cilantro, chopped
1/4 tsp cumin
1/4 tsp paprika
1/4 tsp cayenne pepper
Juice from 1 lime
Salt and pepper
Remove the husks and silks from the corn. Place the corn on the BBQ and turn every 30 seconds, until the corn blackens. Remove from the grill and set aside to cool.
Once cooled, slice off the kernels from the cob. Add to a large bowl with the rest of the ingredients, toss to combine.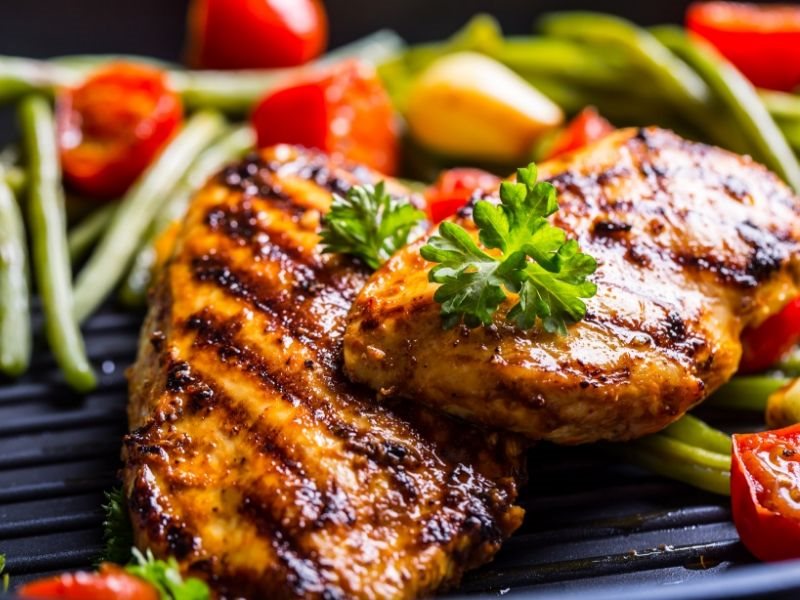 BBQ Chicken
6 chicken breasts
1/3 cup hard cider
2/3 your favourite BBQ sauce
2 tbsp lemon juice
2 tbsp apple cider vinegar
1 tsp dried rosemary
1 tsp dried thyme
1 tbsp garlic, minced
1 tbsp fresh basil, chopped
Salt and pepper
Mix together everything but the chicken. Add chicken breasts to a resealable bag and top with cider mixture, toss to coat. Refrigerate overnight and grill over indirect heat the next day.
Pair it with:
Buffalo Coleslaw
For the slaw
1/2 green cabbage, thinly sliced
1/2 red onion, thinly sliced
4 celery stalks, chopped
2 carrots, chopped
1 cup blue cheese, crumbled and divided
1 tbsp chives, chopped
For the dressing
1/4 cup mayonnaise
1/4 cup hot sauce
1/4 cup apple cider vinegar
1 tsp garlic powder
1/2 tsp salt
In a large bowl, combine slaw ingredients and set aside. In a separate bowl, add all the dressing ingredients and whisk until combined. Add dressing to slaw mixture and toss to coat. Garnish with chives and remaining blue cheese crumbles.
Pair it with:
Grilled Vegetable Skewers
For the skewers
4 red onion
4 medium zucchini
2 red bell pepper
2 yellow bell pepper
8 oz cherry tomatoes
8 oz button mushrooms
For the garlic sauce
1/3 cup olive oil
5 cloves garlic, minced
3 tbsp fresh parsley, minced
3 tbsp fresh cilantro, minced
1 tsp fresh rosemary, minced
Salt and pepper
Soak 8-10 wooden skewers in water for at least 30 minutes. Prepare the vegetables for the skewers – chop each to roughly the same size.
Whisk together the sauce ingredients in a medium bowl and set aside.
Thread prepared vegetables on skewers. Brush the skewers with olive oil. Grill over medium-high heat for about 5 minutes per side. Remove from the grill and top with garlic sauce.
Pair it with:
Grilled Peaches
4 ripe peaches, cut in half and pit removed
1 tbsp vegetable oil
Vanilla ice cream
Honey
Sea salt
Brush peaches with oil and place cut-side down on the grill over medium heat. Grill on each side about 4 minutes. Drizzle with honey, a sprinkling of sea salt and a scoop of vanilla ice cream.
Make it with:
Blackberry-Bourbon Iced Tea
3 cups fresh blackberries
3/4 cup sugar
2 tbsp fresh mint, shopped
4 cups water
6 black tea bags
1/2 cup bourbon
Mash together blackberries, sugar and mint in a large bowl and let sit.
In a saucepan, bring the water to a boil. Remove from heat and add tea bags. Let steep for 3 minutes. Remove tea bags and pour over blackberry mixture. Let it cool.
Strain the mixture into a pitcher and add refrigerate for 2 hours. Add the bourbon to the pitcher and stir to combine.
Make it with: