ANBL is a motivating partner behind social responsibility programs in New Brunswick. They encourage responsible use of beverage alcohol by initiating a continued conversation around making educated decisions, responsible consumption and hosting, and ending impaired driving.
MODERATION CAMPAIGNS
ANBL regularly executes promotional moderation campaigns, in an effort to educate the public on responsible consumption. They regularly share Health Canada's "Low Risk Drinking Guidelines", as well as recommendations of when to abstain from alcohol. Mocktail options are offered for responsible hosting, as well as tips on how to get home safe.
EDUCATION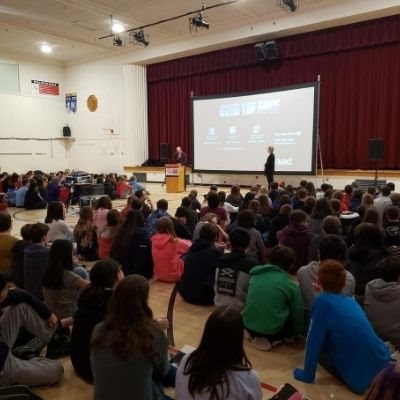 ANBL continues to partner with MADD Canada to help educate middle school students on responsible consumption of alcohol through sponsorship of presentations to students around the province. In 2019, a film presented at 56 student assemblies, "Over the Edge" brought a high-energy and impactful message of drug and alcohol awareness and risk reduction to students. In addition, over $45,000 was donated to MADD Canada, on behalf of ANBL customers, as well as part of the ANBL Social Responsibility program.

RESPONSIBLE SELLING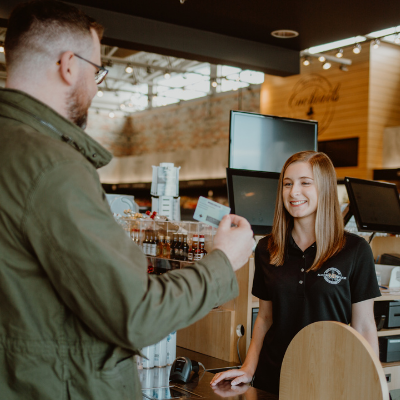 Customer service is a priority at ANBL, and that includes ensuring they only sell to customers who are legally fit to purchase. Customers who appear to be under the age of 30 will be asked for ID. In the past year, ANBL served over eight million customers and over 10% of those customers were asked for ID. Service was refused to over 12,000 customers who did not have ID.
ENVIRONMENTAL INITIATIVES
ANBL remains focused on corporate responsibility, including measures to improve its environmental footprint, and has taken several steps to do so in day-to-day operations, such as:
completely eliminating plastic bags from ANBL stores, removing 5.5 million plastic bags from entering New Brunswick landfills
using 100% recyclable cardboard for all in-store merchandising signage
replacing plastic tasting cups with those made from 100% biodegradable corn lycra
reducing plastic use when it comes to pallet wrapping
using only LED lighting in new stores, and when renovating older stores
recycling cardboard and plastic at our head office, warehouse and all stores
using cold winter air to cool cold rooms and reduce the need for mechanical cooling in winter months
participating in the NB Power peak demand program, shifting the head office power demand off the grid when prompted on cold mornings in the winter
Safety - Covid-19 Response
As soon as ANBL was deemed an essential service by the Government of New Brunswick, teams went to work on making stores a safe environment for staff and for customers. ANBL is proud of their front line workers. Stores were given the materials they needed to run the business safely and did so with much thanks and praise from customers.

ANBL also invested in various point of sale materials to educate customers on physical distancing practices. Personal protective equipment was purchased for all staff, and cleaning practices were ramped up in stores as well as at the Retail Operations Centre.

Celebrate Safe
While there are lots of resources on pairing food with wine or beer or cocktails, it's often more difficult to find information on pairing food with non-alcohol alternatives. Click here for options for non-drinkers, or for between alcohol beverages.