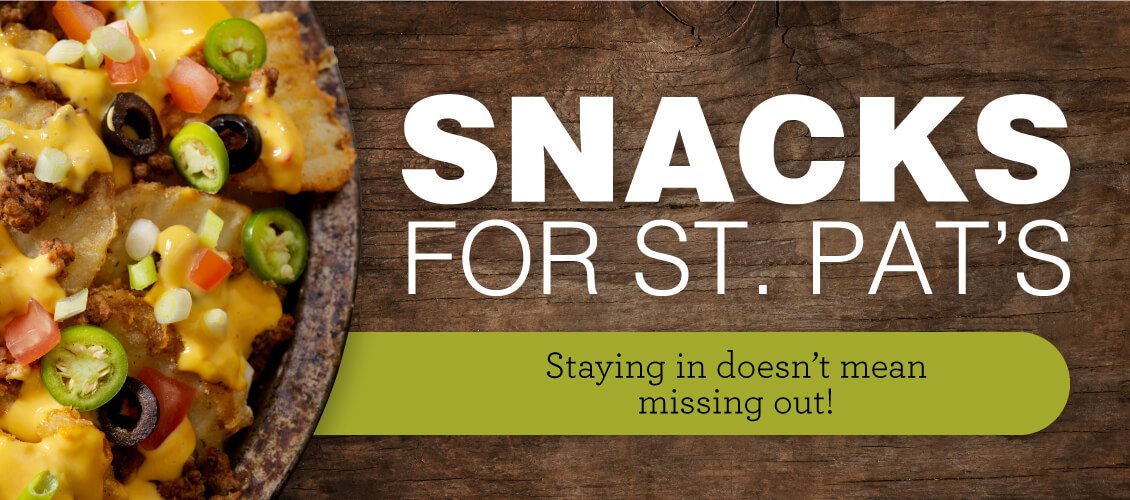 Staying in doesn't mean missing out! Even if you are spending this holiday at home this year doesn't mean you can't crack a cold one and chow down on these delicious and festive snacks.
Something easy:
Irish Nachos
These guys are no fuss! Just grab:
1 Bag salted Kettle Chips
½ cup shredded mozzarella
¼ cup sliced green onions
And that's it! Pile everything on top of the kettle chips in a cast iron pan or cookie sheet and place in a 350 degree oven until the motza has melted. Serve with sour cream for dipping.
Optional ad ons: jalapenos, diced tomatoes
Irish Whisky Truffles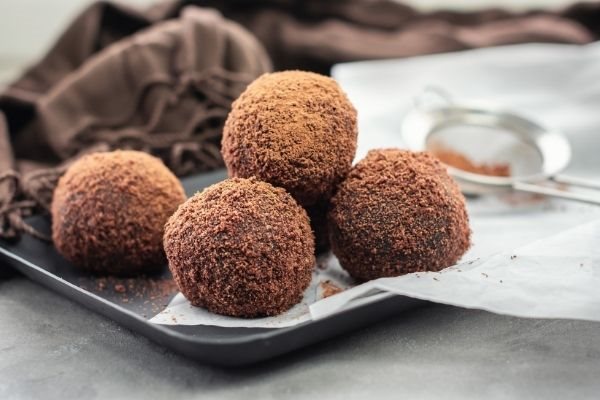 1/4 cup + 2 tablespoons whipping cream
1 tablespoon Granulated Sugar
1 tablespoon instant coffee
3 tablespoons Irish whiskey
For the ganache, chop 100g milk chocolate and 100g dark chocolate into mixing bowl. Set aside. In a sauce pan bring whipping cream and sugar to a light boil, stirring regularly. Remove from heat and whisk in instant coffee. Pour mixture over chopped chocolate and whisk until chocolate is melted. Add whisky and move mixture to fridge to firm up. This may take up to 3 hours or can be left overnight. Once frm use melon baller or spoon to form ganache into balls. Place onto cookie sheet and place in freezer while preparing the chocolate coating.
For the chocolate coating, chop remaining dark chocolate into a microwave safe bowl. Microwave at 30 second intervals until melted and smooth. Stirring after each 30 second interval. If chocolate is not become smooth add a small amount of butter or margarine. Use fork to dip and roll the ganache balls in the chocolate. Set back on cookie sheet and allow to cool. Keep refrigerated.
Guinness Glazed Meatballs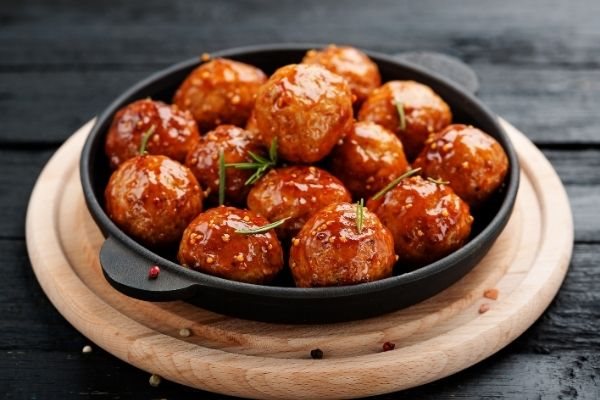 1 lb. ground turkey or beef
Alternatively, use precooked store bought meatballs to skip this step.
2 tsp. dried minced onion
For the meatballs:, Combine all ingredients in a medium mixing bowl. Mix well.
Form into 1 ½ inch balls and place on a baking sheet lined with parchment paper.
Bake at 350° for 20-25 minutes.
For the sauce, combine all ingredients except cornstarch in a medium saucepan. Bring to a boil, whisking occasionally. Reduce heat and simmer for 20 minutes. Whisk in cornstarch and continue simmering 5 minutes or until thickened.
Add meatballs to sauce and enjoy!
Irish Boxtys
16 oz garlic mashed potatoes (Potatoes, 1 tbsp butter, 1 tsp garlic powder)
1 cup seasoned bread crumbs
vegetable oil for frying (or an air fryer!)
Boil and mash potatoes with butter and garlic powder. Use scoop or spoon to form balls and set on a plate. Place plate in the freezer while preparing the other ingredients so that they are easier to work with. Using two separate bowls, place bread crumbs in one and crack into the other. Lightly beat egg. Fill a small sauce pan ¾ of the way full and turn to medium heat. When oil is hot but not smoking, reduce heat and prepare your Boxtys by dipping the potato balls first in the egg and then in the bread crumbs. Carefully add to the hot oil and fry for 30 seconds to a minute or until they start to turn a golden brown. Remove from oil onto paper towel and serve warm. They may have to be cooked in batches depending on the size of your pan. Serve with any number of dipping sauces. Sour Cream and Salsa are particularly good.
Something a little less traditional:
Irish Egg Rolls
2 c Cabbage, , thinly sliced
1 c Carrots, , thinly sliced
6 oz Corned Beef, , thinly sliced
Heat frying oil to 350°F. Or try them in the air fryer!
Mix cabbage and carrots together in a small bowl. Add 1 tablespoon of water and cover with a damp paper towel. Microwave for 1 minute 30 seconds to lightly steam. Lightly salt and pepper.
Lay an egg roll wrapper down on a cutting board in a diamond shape.
Take a pinch or two of cabbage mix and lay it on the egg roll wrapper.
Add about 4 strips of corned beef.
Wet a finger with a little water and run it around the edges of the egg roll wrapper.
Fold the left and right corners in and then pull the bottom corner up and roll it up tightly.
Do this for each egg roll and then begin frying in batches putting two egg rolls in the frying oil for 2-3 minutes, turning once, until they are golden brown.
Remove from the oil and sit on a plate lined with paper towels to drain the grease from them.