Céad Mile Fáilte
Do not adjust the settings on your smartphone or laptop – you didn't take a wrong turn into foreign language territory. 'Céad Mile Fáilte' is an Irish saying that means 'A Hundred Thousand Welcomes'.
Isn't it just like the Irish to adopt a saying that is so friendly and hospitable? For a country that graciously allows the world to borrow from their culture and don 'Kiss Me, I'm Irish' pins once a year, it's the kind of gesture you expect from such a warm and rowdy bunch.
Once again, we've reached that time of year where friends gather and wear their most cheerful green attire and Irish swag in celebration of all things St. Patrick's.
And where there are celebrations, you just know fantastic food and delicious drinks aren't far behind – which is where we come in!
Whether you are a newbie to Irish Whiskey, you're looking for a tasty Irish brew to try, or you're hoping to wow a crowd with some Irish-themed eats, you've come to the right place.
Welcome. Fáilte. And get ready to pour on the Irish charm.
Spotlight on Irish Whiskey
Irish Whiskeys to Try This St. Patrick's Day
Whether you are brand new to Irish Whiskey or you are already an avid fan – there's no better time to indulge in a little Irish Whiskey tasting just in time for St. Patrick's Day.
ANBL's Spirits Category Manager, Brian von Richter helps us shine a spotlight on a few Irish Whiskey selections to help you set a celebratory Irish mood.
Jameson Irish Whiskey
We would be remiss to profile Irish Whiskey and not begin with Jameson.
A classic example of what Irish Whiskey represents, it is smooth, light, with a touch of citrus and is extremely versatile.
Jameson is capable of shining in a cocktail but also a great sipper on its own.
Brian's Perfect Pairing:"A large pour in a short glass served over ice with a splash of ginger ale and a lime wedge - paired with good friends and a few great stories (the degree of truth behind the stories is not important)."
Busker Triple Smooth + Bushmills Black Bush
These Irish Whiskeys are fantastic cocktailing whiskeys and will never let you down.

Here are two of Brian's favourite cocktails recipes that highlight the best features of each of these Irish Whiskeys:
Irish Old Fashioned
The Old Fashioned cocktail is of course THE classic cocktail, however it is traditionally made with Rye or Bourbon which are often viewed as bolder whiskies in flavour. Bushmills Black Bush is an ideal Irish Whiskey to replicate this experience in the cocktail as the aging within Orolosso Sherry and Bourbon casks lends an intensity and depth of flavour that absolutely thrives in this quintessential cocktail.
Brian's Perfect Pairing: "With cool air and a warm fire."
What You'll Need:
1 sugar cube
3-4 dashes Angostura Bitters (or enough to coat the sugar)
1 oz water
2 oz

Bushmills Black Bush

Orange peel or twist
Cherry

How to Make It:
Add sugar to a rocks glass (or mixing glass) and saturate with bitters.
Muddle the sugar and bitters then top with water. Stir to combine.
Add Whiskey and ice and stir until chilled.
Strain into a fresh rocks glass and add a large ice cube and garnish with an orange twist and a cherry.
---
Busk and Ginger
Although extremely simple, this serve is a staple in the Irish Whiskey world. The Busker Triple Smooth is everything you expect from a classic Irish Whiskey and shines in this time-honoured pour.
What You'll Need:

How to Make It:
Fill a tall glass with ice.
Pour the Busker Triple Smooth and top with ginger ale.
Stir to combine and garnish with lime wedge.
---
Proper Twelve + Roe & CO
Using the term "new" to describe an industry as historical as Irish Whiskey feels a bit out of place, however in the grand view of the history of Irish Whiskey these two products are "newer" to the market and are still being discovered by the masses.
Proper Twelve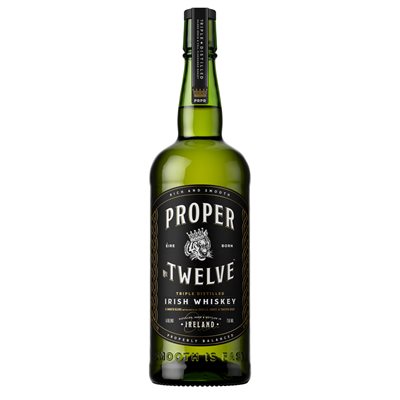 Although this brand is known worldwide thanks to a celebrity presence (Connor McGregor) the liquid in the bottle has kept people coming back again and again.
Brian's Perfect Pairing: "A toast for the ages."
---
Connemara Peated
Traditionally peated whiskies are the specialty of Scotland. However, this product would beg to differ, as it is a unique offering from Ireland.
For those who have never experience a peated whiskey, the signature aromas and flavour profiles are that of smoke.
Connemara Peated Single Malt
This experience is thanks to the drying process of the malt used in this whiskey utilizing peat moss as the fuel for the drying fire. The smoke that rises through the malt imparts intense smoke notes that are unforgettable.
Best paired "at the end of a great evening as a night cap neat or over ice. The flavours will linger long after the glass is empty and will leave you with something to remember the night."
BONUS Whiskeys: Something Special
All of these beautiful Irish Whiskies are globally allocated products. This means that the manufacturer determines a set number of cases to each country that they sell within for each year. When the allotted cases are sold, there are typically no more for the remainder of the year for that market. This makes them extremely sought after. (INSIDER TIP: grab them while you can when you see them on shelves at ANBL).
Brian's Perfect Pairing: "With time - sip these gems slowly and savour the experience because each of these liquids is just that, an experience in a glass."
Explore our full listing of Irish Whiskeys here. We hope you enjoy discovering new flavours and revisiting old favourites.
Brian von Richter is ANBL's Spirits Category Manager. He brings over 13 years experience to the category and has a deep appreciation for whiskey.
Back to Top »
Perfect Pints for St. Patrick's Day
Raise Your Glass for Irish (and Irish-Inspired) Beer
Raise your glass and cheers your mates – there is no better time to explore Irish and Irish-inspired brew than on St. Patrick's Day.
From dark and heavy stouts to cream ales the Irish have a knack for beer.
Have a peek at some of these selections to get you on your way – some of them are Irish, some are simply Irish-inspired – but all of these pints are designed to pair perfectly with your day – no matter how you choose to celebrate.
See one you like? Be sure to check out the store inventory listing before you head out to ensure we've got what you're looking for in stock at your preferred store.
Thirsty for more Irish Ales? You're in luck - we've got 'em right here.
Back to Top »
St. Paddy's Day Party Essentials
Get Your Irish On
Combining the best of Irish-inspired food + drink to help make your St. Paddy's Day party planning a *leprechaun kick* snap.
Guinness and Cheddar Mac and Cheese
What You'll Need:
1lb of elbow macaroni
3 tbsp butter
3 tbsp flour
2/3 cup of Guinness
1 ½ cups of 2% milk
1/2 cup of half and half (10% cream)
1/2 tsp salt
1/4 tsp ground black pepper
1 tbsp dijon mustard
2oz cream cheese
3 ½ cups grated cheddar
How to Make It:
Boil elbow macaroni in well salted water and cook until just al dente. Before draining the pasta, reserve a cup of the pasta water and set it aside (you'll need this later). While the pasta is cooking, prepare the cheese sauce:
In a large saucepan over medium heat, melt butter and sprinkle in flour. Whisk together for a minute. While whisking, pour in Guinness, milk, half and half, salt, pepper, and mustard. Bring to a simmer and cook, whisking frequently, until it thickens slightly (several minutes).
Add cream cheese and 2 ½ cups grated cheddar and stir/whisk until completely smooth. Add drained, cooked pasta and stir to combine. Add remaining 1 cup grated cheddar and stir until melted (this will help achieve a stringy/cheesy-pull texture). Let this mixture sit over low heat for a few minutes, stirring frequently, so that the pasta can soak up some of the cheese. Add a bit of the reserved pasta water into the mixture to loosen up the sauce a bit.
Want to know what pairs well with mac and cheese (besides a big spoon and an empty stomach that is)? Breadsticks! Better yet, how about homemade 3 Ingredient Beer Breadsticks?
YUM. Are you drooling yet?
---
3 Ingredient Beer Breadsticks
What You'll Need:
3 cups of self-rising flour
12 oz of beer
1/3 cup of butter, melted

To Make Them:
Preheat your oven to 400°F (200°C) – then grease a large baking sheet
Combine the flour, beer and 4 tbsp of the butter into a large bowl and mix well. Pour onto the greased pan and spread out with slightly damp hands into a (roughly) 12 by 9 inch rectangle.
Bake for 40 minutes until dark golden brown. Brush with the remaining butter. Cut into 12-16 sticks. Serve warm.
Tip: If you're feeling a little salty and want to add a dash of extra flavour, sprinkle some kosher salt on top of the dough before putting them in the oven.
Now that dinner's covered, let's do a little jig on over to dessert. Is there anything more perfect to top off dinner than with a warm dessert coffee? We didn't think so either. And let's be honest, with all that mac and cheese in your belly – you don't have room for much more than that anyway.
---
Original Irish Coffee
What You'll Need:
2 tsp of packed brown sugar
4 oz of strong, hot coffee
1 ½ oz of

Irish Whiskey

1 oz of heavy cream, lightly whipped

To Make It:
Place the brown sugar into a heat-proof Irish coffee glass (or a coffee mug)
Add the coffee and the Irish Whiskey
Stir until the sugar is dissolved
Don't stir – the cream is meant to sit on top of the coffee as you sip your way to the bottom of the mug
Last but certainly not least, Dear Reveler, if you are still in search of even more Irish Cocktails – we've got you covered. No need to go searching for them at the end of the rainbow – you can find the full feature on Irish Cocktails and Mocktails right here.
Give them a lash* at your St. Paddy's Day gathering and you'll blow the socks off all your party guests.
*an Irish expression that means to try something out. Aye, now you're practically an Irish local.
Back to Top »