Nothing says OH CANADA! like a pile of crispy fries covered in squeaky curds and rich savoury gravy. A classic in the best way possible. But where would our country be without its wonderful diversity? And the same is true when it comes to poutine. So, we've paired these delicious mix ups with their perfect Canadian made pairings for you to try at home this Canada Day.
Butter chicken poutine
While sticking with the standard crispy fries and squeaky curds, this poutine takes a turn when adding on the "Gravy". For a simple to do and basic version of this exotic twist, simply cube a couple boneless chicken breasts, season with salt and pepper, fry in pan until cooked through, and add in your favourite jar of store-bought butter chicken sauce. This is also a great option for leftovers from you favourite curry spot or for your own homemade sauce.
Canadian beer pairing:
Half Cut Brewing Tickle Fight IPA
Seafood Poutine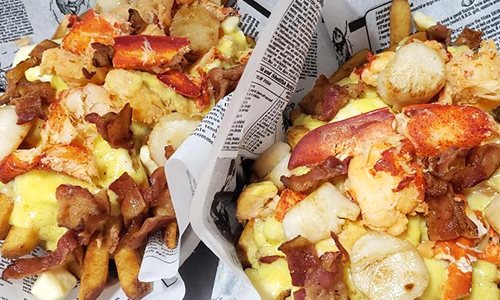 Rich and creamy, this version adds crispy bacon, fresh scallops, and mouth-watering lobster onto that pile of crispy fries. Add on the cheese curds and slather with creamy hollandaise sauce for a poutine no sea captain could turn down. This one from Jonsie's Penfield Take-out is our absolute favourite!
Pairing:
Benjamin Bridge Tidal Bay
Chicken dinner poutine
All the things you love about a homecooked chicken dinner piled on top of fries. Chicken (or turkey) peas, stuffing, and gravy are the perfect match for the fries and cheese curd combo. Pro tip: cranberry sauce takes it to the next level. Great as a dish on its own or as a new way to use holiday leftovers!
Pairing:
Red Rover Summer
Cheeseburger poutine
A staple at any Canadian truck stop, this beefy french fry topping will leave no room for dessert. To make it at home, fry up some lean ground beef, throw in onions and mushrooms (if you like that kind of thing), pile the fry-up onto of your favourite fries then top with dark beef gravy and cheddar cheese. This is a good chance to decide what side of the fence you are on for the "ketchup on poutines" debate.
Pairing:
Muskoka Mad Tom IPA
Spicy chicken poutine
This one is for those that like a little/a lot of heat! Serve up a traditional poutine and add your favourite chicken fingers chopped into bite size pieces, a few jalapenos, and a squeeze of your favourite hot sauce (We loved siracha).
Canadian spirit cocktail pairing:
A Tom Collins made with Ungava Premium Gin.
Mushroom gravy poutine
For a veggie option try adding mushroom gravy instead of the chicken or beef. Mushrooms and onions sautéed with olive oil, thyme, and splash of red wine are then simmered in vegetable broth and thickened at a boil with a corn starch slurry to create a rich, creamy gravy. For a vegan option try your favourite vegan cheese substitute instead of the curds. Delicious!
Pairing:
Pelee Island Reserve Pinot Noir VQA