Our Picks
Okanagan Crisp Apple


Lauren - Coordinator, Agents & Local Industry

OKANAGAN PREMIUM CIDER CRISP APPLE 6 C - This will forever be my go-to cider!


Malibu Coconut


Monique - Shediac


I have the perfect Pina Colada recipe for hot summer days:
1 1/2 oz.
MALIBU COCONUT 750 ML
1 cup pineapple juice
1 to 2 scoops of vanilla ice cream
Put ingredients in blender with ice and blend until smooth.
Glendalough Gin


Lori - Vice President & CFO

GLENDALOUGH WILD BOTANICAL GIN 750 ML - I like to pair this Gin with soda water & a squeeze of lime over ice.
Mott's Clamato Gin & Cucumber Caesar


Diane - Shediac

MOTT'S CLAMATO GIN & CUCUMBER CAESAR 458 ML - We love the whole Motts lineup for the Summer season. But I find the new Gin & Cucumber very light and refreshing. Definitely my pick!
Gérard Bertrand Côte des Roses


Sandy - Moncton North

Gérard Bertrand Côte des Roses - I love the crispness of this light and dry wine. It's easy drinking on its own while on the patio, but it also pairs well with seafood. A great value and a great wine for the summer season.
Tullamore Dew Irish Whiskey


Alex - York Street, Fredericton

TULLAMORE DEW IRISH WHISKEY 750 ML - As a whiskey drinker, I find this one to be a great choice for any time of the year. It's also an amazing value.
Kronenbourg 1664 Fruits Rouge


Natalie - Dieppe

Kronenbourg 1664 Fruits Rouge - Light beer with a hint of red fruit flavour. Very pleasant without being overly sweet. Great on its own or with a Baked Brie with red fruit topping such as raspberries or strawberries.
Mirassou Pinot Noir


Luc - Edmundston

Mirassou Pinot Noir - I chose this wine because it's a fruity and very versatile wine that is affordable and most people enjoy.
Angus the Bull Cabernet Sauvignon


Kelly - Woodstock

Angus the Bull Cabernet Sauvignon - My favourite summer drink because it goes perfectly with a BBQ steak!
Dusty Boots Root Beer


Michelle - Assistant Category Manager, EXPÉRIENCE Wines

Dusty Boots Root Beer - When I take a break from wine, I like this, served on ice. It has a light smell of vanilla but it's not too sweet. It's great for those sunny afternoons relaxing on the deck or those cold winter nights inside watching the hockey game.
Bowmore Darkest 15 YO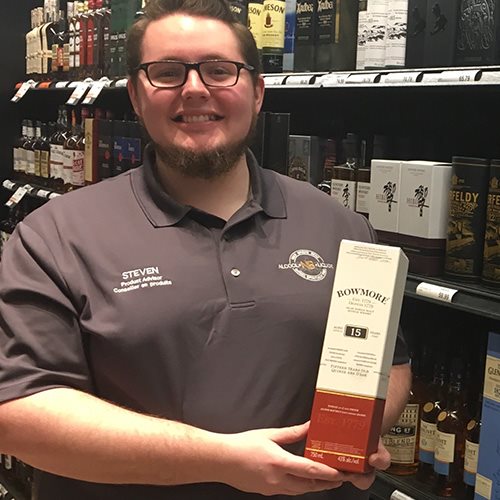 Steven - Product Advisor, Moncton North

Bowmore Darkest 15 YO - This is my favourite single malt Scotch, as it has the perfect balance of fruit and smoky peat flavours. Bowmore is also one of the oldest distilleries in all of Scotland.
Ninja Turtle Cocktail


Monica - Neguac

It's easy to make: Mix Melon Liqueur with Malibu and pineapple juice. This one is really great!