Spaghetti Squash
1 spaghetti squash
1 jar of spaghetti sauce
1 lb extra lean ground beef (or substitute for lean ground turkey!)
1 tbsp Italian seasoning
½ cup of green pepper chopped
½ cup of red pepper chopped
½ cup of mushrooms chopped
1 tbsp olive oil
Preheat oven to 450 degrees. Cut spaghetti squash in half length wise. Scoop seeds out of the center of both pieces. Brush olive oil inside of both pieces of squash. (Option: season with Himalayan pink salt and pepper) Place face down on pan. Cook for approximately 45 minutes. Cook ground beef (or turkey) with Italian seasoning over medium heat. Allow to cook thoroughly before adding the spaghetti sauce, peppers and vegetables. Stir and allow to simmer on low for 10 minutes. When spaghetti squash is done, remove from oven and allow to cool for 10-15 minutes. Using a fork, shred the inside of the squash to finish the 'spaghetti'. Serve with a scoop of sauce over 'spaghetti'.
Zucchini Taco
4 medium sized zucchinis
1 lb ground turkey
1 pack of taco seasoning
¼ cup green peppers finely chopped
¼ cup red peppers finely chopped
¼ cup red onion
1-2 jalapenos chopped (optional)
2/3 cup of shredded cheese
Preheat oven to 400 degrees. Cut zucchinis in half length wise and scoop out the seeds in the middle. Cook ground turkey on medium heat until thoroughly cooked. Mix in taco seasoning and then vegetables. Scoop the mixture into the zucchini. Add shredded cheese to the top of the mixture and bake for 15-20 minutes until the zucchini is cooked through.
Quesadilla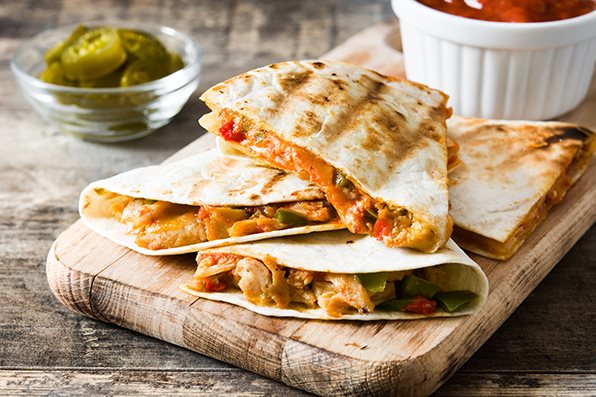 Whole wheat wraps
2-3 chicken breasts
½ cup green pepper chopped
½ cup red pepper chopped
¼ cup red onion finely chopped
2 jalapenos chopped (optional)
2 tsp of chili powder
1 tsp of cumin
Shredded cheddar and mozzarella cheese
Salsa
Plain Greek yogurt
Cut chicken breasts into 1 inch cubes and season with chili powder and cumin. Cook over medium heat until thoroughly cooked. Add in vegetables and continue to saute for 2 minutes. Pre heat another skillet. Lightly butter the outside of a tortilla and place butter side down on the skillet. Scoop chicken and vegetable mixture onto half of the tortilla. Add cheese over mixture. Let heat until tortilla is golden brown and carefully flip quesadilla. Once golden brown on both sides serve with a side of salsa and plain Greek yogurt. Recipe serves 3-4.
Chicken Stew
2-3 bone-in chicken breasts cooked
4 large Carrots, peeled and sliced
1 medium Turnip, cut into 2 inch cubes
½ Cabbage, shredded
1 white onion
2 bay leaves
8 cups chicken broth
2 tsp garlic powder
½ tsp rosemary
¼ tsp sage
Salt & Pepper to taste
Once chicken breasts are cooked and cooled, shred chicken from bone using fork. Peel onion but do not cut or chop. In a large pot, add all vegetables, chicken, onion and bay leaves. Pour chicken broth into pot and bring to a simmer. Allow to simmer for 2-3 hours until all vegetables are cooked through.