Navigate to:
EXPÉRIENCE : BBQ Reds

EXPÉRIENCE Homepage
Summer weather screams tropical flavours and colourful, frozen cocktails. Looking for a new spirit for a big BBQ bash or an evening on the deck? This release of summer spirits has you covered. From tropical banana to citrus to cucumber, enjoy them on their own, with a bit of soda water or in any of these delicious cocktail recipes.

750ml
$28.29

Clean and crisp on the palate, bursting with savory cucumber flavor and smooth finish. A clean and natural tasting cucumber flavoured vodka.

After hitting the links or getting off the tennis court.

Cucumber is the first new flavour for Stolichnaya since 2012.

New Classic: 2 oz Stolichnaya Cucumber + 1 oz simple syrup + 1 oz lime juice + Soda water. In a cocktail glass filled with ice ad Stoli Cucumber, simple syrup and lime juice and stir to combine. Top with soda water. Garnish with pieces of fresh cucumber and lime.
750ml
$28.00

Aromas of sweet banana, caramel and vanilla. Tastes of candied banana, burnt sugar and butterscotch.

Put the kids to bed after a beach day and enjoy a frozen Banana Daiquiri.

In Cuba, bats are considered lucky. When Doña Amalia Bacardí spotted fruit bats in the distillery, she insisted that a bat should appear on every bottle.

Tropical Punch: 2 oz Bacardi Banana + 1 oz coconut cream + 1 1/4 oz orange juice + 1 oz lemon juice + 3/4 oz simple syrup. In a cocktail shaker filled with ice, add all ingredients. Shake and pour into a cocktail glass. Garnish with an orange wedge.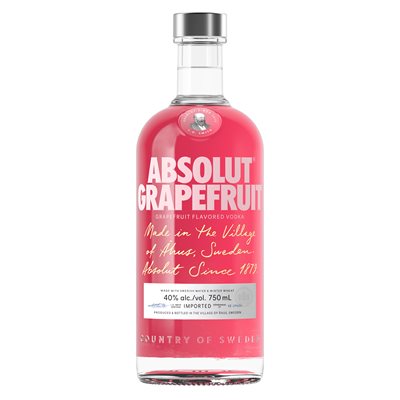 750ml
$28.00

Absolut Grapefruit has a truly fresh taste and is fruity with a distinct character of pink grapefruit and a well-balanced natural sweetness.

Perfect match for Taco Tuesdays.

Made with natural flavours and no added sugar.

The Swedish Paloma: 1 1/2 oz Absolut Grapefruit + 1 1/2 oz ruby red grapefruit juice + 1/3 oz lime juice + Soda water. In a cocktail shaker filled with ice, add Absolut Grapefruit, grapefruit juice and lime juice. Shake and strain into a highball glass rimmed with sugar. Top with soda water and garnish with a wedge of fresh grapefruit.
750ml
$49.99

Bright, suggestive aromas of ripe lemon zest with hint of sweetness, well balanced between the citrus flower and the leaf of the lemon tree. Clean with fresh lemon flavours with a subtle fruitiness, suggestive of the floral, zesty nature of the fruit.

Celebrating Bastille Day on July 14.

Grey Goose Le Citron is made using lemons from the world-renowned Menton region in France. Menton lemons are larger and thicker-skinned with a milder and less acidic-flavour, resulting in a superior lemon flavour.

Ginger Julep: 1 oz Grey Goose Le Citron + 3 slices of peeled fresh ginger + 3 springs of fresh mint + 2 lemon wedges + 1 tsp sugar + Club soda. In a cocktail shaker, muddle ginger and sugar. Add the mint and lemon wedges and muddle well. Fill the shaker with ice and add Grey Goose Le Citron. Shake well and pour ingredients into a cocktail glass. Top with club soda and garnish with fresh mint.
750 ml
$34.99


This bright delicious gin is like no other. Our sun-ripened Sicilian pink grapefruits are grown in citrus groves on the Mediterranean coast where the mountains greet the sea. The taste is juicy fresh grapefruit, with a rich long juniper finish.
After exploring one of New Brunswick famous trails.


This gin is created using Italian juniper, Sicilian pink grapefruit, Italian rhubarb and five other bontanicals.
Pink Gin Fizz: 1 oz Malfy Gin Rosa + 2 oz Prosecco. Add Malfy GIn Rosa to a Champagne flute and top with Prosecco. Garnish with a grapefruit twist.
750 ml
$27.29

A new twist on an old favourite. The new Malibu Lime has a bold and juicy taste with a fresh lime finish.

Lounging by the pool.

Made in the spirit of traditional Caribbean flavored rums, Malibu is the original coconut rum. It's crafted at a beachside distillery in Barbados.

Malibu Lime Frozen Daiquiri: 2 oz Malibu Lime + 1 oz fresh lime juice + 1 oz simple syrup + 1 scoop ice. Blend all ingredients until smooth. Pour into a cocktail glass and garnish with a slice of lime.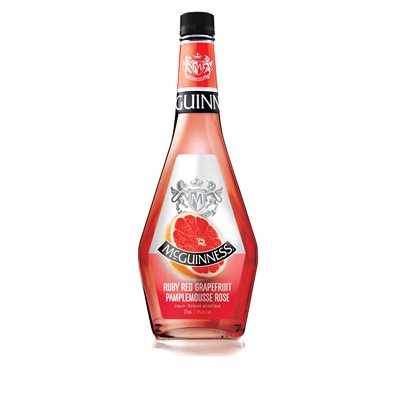 375 ml
$13.99

Aromas of bright, fresh grapefruit with subtle notes of grapefruit peel. Flavours of grapefruit with hints of tangerines and navel oranges.

Sea breeze cocktails are made for weekend brunches.

McGuinness is Canada's largest mixable liqueur family including flavours like Melon, Cherry, Mint and now Ruby Red Grapefruit.

Sea Breeze: 1 oz McGuinness Ruby Red Grapefruit + 1 1/2 oz vodka + 3 oz cranberry juice. Pour all ingredients into a high ball glass filled with ice. Stir to combine and garnish with a slice of fresh grapefruit.