Navigate to:
EXPÉRIENCE : Sparkling

EXPÉRIENCE Homepage
Tis' the season for giving! Giving gifts is one of the best parts about the holidays. With these gift ideas, you are sure to be making spirits bright this year! It is also the perfect time of the year to savour these incredible spirits, mix them in a drink or enjoy as is. All these products have immense flavor to get you through the holidays!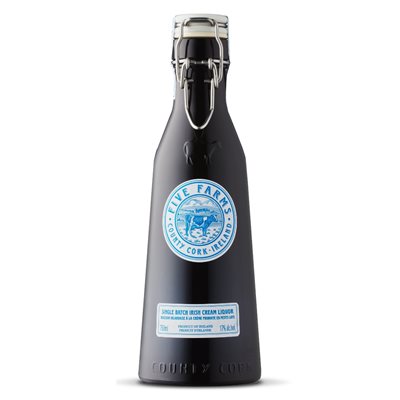 750 ml
$39.99

An inviting nose of butterscotch, caramel, fondue and vanilla bean jumps from the glass. The lush palate coats the mouth with flavours of coffee and fresh cream, dulce de leche, coconut, maple, and Belgian waffles. An intensely satisfying after dinner sipper in place of dessert.
Warm cozy drink to enjoy at home by the fire.
Fresh dairy cream from five family-owned farms, expertly blended with triple-distilled Irish Whiskey. Exclusively sourced in County Cork, Ireland.

Vanilla cream pie:
3oz Five Farms Irish Cream Liqueur, 1 oz Vanilla Flavored Vodka & 2oz Cold Brew Coffee
In a shaker add Five Farms, Vanilla flavored vodka, cold brew coffee and ice. Shake and strain into a glass with fresh ice and rimmed with honey and crushed shortbread cookies.
750 ml
$44.99

On the nose soft juniper notes with french rose. On the palate gentle sweet spice, Turkish delight with hint of citrus. The finish is long floral rose petals and pink peppercorn.
Sipping on while wrapping the presents.
Three varieties of rose are used; the rare and elusive Wild Rose from the Wicklow mountains, large fragrant Heritage Roses and the ancient prized Damask Rose. All of which come together to make this a naturally pink and very floral gin. in Pictou County, Nova Scotia, this vodka is made with premium ingredients in small batches.

Classic Gin Tonic
750 ml
$31.29

The Beam family's oldest recipes are used to craft this in pre-prohibition style. Rich golden amber colour pours into the glass. Bold aromas and flavours of rye grain, charred oak, dried fruit and spice, leading to warm well-integrated alcohol and complex layers of resonating flavours that linger on a long finish.
Perfect for a night cap after Christmas Dinner.
Jim Beam Rye is a pre-Prohibition style rye whiskey that pays homage to one of our family's oldest recipes and is distilled according to the same exacting standards that have governed Jim Beam for more than 200 years.

Old fashioned: 3 dashes Angostura Bitters, 1 Cherry, 2 parts Jim Beam Rye Whiskey 0.5 Orange Wedge, Top with Soda Water & 2 Sugar Cubes
In an old fashioned glass muddle cherry, orange, bitters, and sugar cubes. Fill the glass with cracked ice and add whiskey. Stir and bring fruit up.
750 ml
$64.99

Deep amber. Subtle spice, cinnamon infused blackcurrants combined with creamy vanilla ice cream. A superb combination of rich sweet oak and toasted spices laced with the slightest hint of peat smoke. Satisfyingly long and smooth.
This cocktail is perfect for impressing guests at your holiday get together.

The limited-time offering features a blend of 8-year-old Kentucky Straight Rye Whiskey and 4-year-old Canadian Rye Whisky, which bring to life layers of flavor, including distinct spice, toasted oak and vanilla notes.
Basil Hayden's Winter Spice Mule: 2 parts Basil Hayden's, 4 part Fresh Lime Juice, 1⁄2 part, Simple Syrup, 1⁄2 part Strawberry, Jam Ginger Beer, 2 dashes Angostura Bitters & Rosemary Sprig
Combine all ingredients except for ginger beer and shake with ice. Strain over ice into a rocks glass and top with ginger beer. Garnish with a rosemary sprig.
750 ml
$64.99

Starts with spice and apples with fresh citrus, balanced off with honey. Smooth and balance with no roughness or bitterness.

This gift is already beautifully wrapped and has the awards to prove it.
Award-winning Gold Bar® 889 Blend is an ultra-premium blended whiskey, selected from distilleries from across America, then finished in wine barrels hand-selected from the idyllic Napa Valley in the Golden State of California. Previously used wine barrels, made of French oak, enhance the fruit notes that wine cask maturation brings to the taste. The result is an easy drinking California-style Whiskey

On the rocks