Navigate to:
EXPÉRIENCE: Prosecco DOC

EXPÉRIENCE Homepage
Ever wondered where the term "on the rocks" came from? Legend has it that in the old days in Scotland, when the locals didn't have ice, they would take stones from the river chilled by the mountain snow and add it to their drinks. Trying anything on the rocks is the best way to really capture all the aromas and flavours a spirit has to offer. Want to amplify them even more? Add a few clear ice cubs or a drop or two of water and see how they change. And if that's still not your thing, we've included a few alternative tasty cocktails for you to try.

750 ml
$29.99

Sortilège Maple Cream is blended to be the perfect balance of Canadian whisky, pure maple syrup and fresh dairy cream.

After exploring the fall colours.

Made using an authetnic heritage recipe with the highest grade, pure maple syrup from Quebec.

Alternate to on the rocks:
The Maple Cream Martini - 2oz Sortilège Maple Cream + 2 oz vodka + 4 oz cream. Shake and strain into a martini glass and garnish with a sprinkle of ground cinnamon.
750 ml
$44.99

Reminiscent of golden citrine gemstones with shades of honey and has initial waves of oak, followed by ribbons of vanilla and grain. Its robust oaky notes are complimented by hints of grain and warm caramel, with a full-bodied clean finish and lingering warmth.

Staying cozy by a fire.

Old Tub is being described by the James B. Beam Distilling Co. as a throwback expression celebrating "bourbon's true, rustic character."

Alternate to on the rocks:
The Brown Derby - 1 1/2 oz Old Tub Bourbon + 1 oz fresh grapefruit juice + 1/2 oz honey syrup. Shake and strain into a cocktail glass and garnish with a slice of grapefruit.
750 ml
$29.99

With buttery nutty notes and the mild spice of Canadian whisky, the combination is exactly what you never knew you needed. Move over Jelly, Peanut Butter has a new partner in crime. Revel Stoke Whisky.

After a hike in the woods.

Revel Stoke is a family of whiskies with bold and interesting flavours, all inspired by the tradition of rugged Canadian outdoorsmen.

Alternate to on the rocks:
The PB&J - 1 oz raspberry liqueur + 2 oz Revel Stoke Peanut Butter. Add ingredients to a short glass filled with ice and stir to combine. Garnish with a fresh raspberry.

750 ml
$34.99
The rich amber liquid has a rounded woody spiciness, notes of orange peel and hints of vanilla, creating a fuller flavor profile and long balanced finish.

Streaming your latest TV show.

Extra Viejo is skillfully blended by Brugal's Mastros using their carefully selected, older reserves from white American oak casks that previously held bourbon.

Alternate to on the rocks:
Santo Libre - 2 oz Brugal Extra Viejo + 4 oz lemon lime soda + 1/4 oz lime juice. Pour into a tall glass filled with ice and garnish with a lime.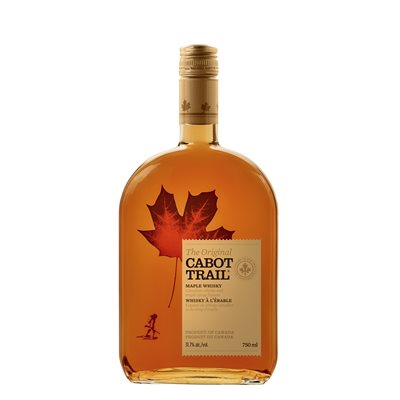 750ml
$32.99
A lightly malted liqueur, accentuated by caramelized notes. The mouth is balanced, flavourful, complex and smooth, with a distinct hint of rye. The bold, round finish delivers a hit of pure maple syrup.

With a backyard bonfire.

Cabot Trail Maple Whisy was a Silber award winner at the 2018 World Spirit Awards.

Alternative to on the rocks:
The Sugarbush Flip
- 1 oz Cabot Trail Maple Whisky + 1/2 oz sweet vermouth + 1/2 oz simple syrup + 1 egg. Add all ingredients to a shaker filled with ice. Shake vigorously and double strain into a chilled cocktail glass. Top with grated nutmeg.
750 ml
$64.99
Aromas of Islay peat smoke and sea salt, followed by warming leather notes, stewed rhubarb and a wonderful vanilla sweetness on the palate, leading to a rich lingering finish.

While reading your favourite mystery.

Scarabus, meaning 'rocky place' in Old Norse, is named after a mystical area of Islay and is described as a whisky for those with a curious mind and an eye for detail.

Alternate to on the rocks:
Add a drop or two of water to release the aromas.