Navigate to:
EXPÉRIENCE: Canadian wines

EXPÉRIENCE Homepage
This is for you whether you feel like having a classic drink or trying something different to sip in the sun. It is time to take your cocktail shaker and fancy glasses out to mix it your way. We have you covered with a unique line up of products that you can choose to discover!

750 ml
$31.99

Juicy and smooth with rich notes of sun ripened strawberries and a well balanced sweetness

By the pool on a hot day

Inspired by the long warm days of the Swedish summer, Absolut Juice Strawberry Edition is made with Absolut Vodka (naturally), delicious fruit juice from sun-ripened strawberries and a little taste of vanilla to cool you down.

Absolut Strawberry & Soda. 1 oz Absolut Juice Strawberry, 2 oz Soda Water, 4 Slices Strawberry, Ice Cubes Fill a wine glass with ice cubes. Add Absolut Juice, soda water, and sliced strawberries to the glass.
700 ml
$26.49

This delicious vodka has been created in the tribute to the magnificent French king, François the 1st, born in Cognac in 1494

Perfect pairing with Friday take out

Magnifique 1515 is a French handcrafted wheat based vodka, distilled in the South-West of France. Column distilled and unfiltered, Magnifique - 1515 Vodka is bottled after going through a progressive reduction method using spring water from the a small French village.

Vodka Collins. 1 ½ oz Magnifique Vodka, 1 oz lemon juice, ½ oz simple syrup, Club soda. Mix vodka lemon juice and simple syrup over ice in a tall glass. Top with club soda and garnish with orange and cherry.
750 ml
$44.99
An initial and distinct juniper, coriander and liquorice flavour that gives way to a bright, fresh vibrant taste of Scottish raspberries. A perfectly balanced Gin with a delicate, fruity taste and a lasting citrus, raspberry flavour.

Sipping on the porch on a rainy day

Luscious raspberries found in Scotland are balanced with juniper notes and has a delicate sweetness which rounds this deliciously Raspberry Gin.

Raspberry Garden. 1.5 oz Whitley Neill Raspberry Gin, 1/3 oz Lemon Juice, 1 oz Sugar Syrup, 1/2 oz elderflower liquor. Top with SodaAdd Whitley Neill Raspberry, lemon juice, Sugar Syrup & Elderflower liquor to a cocktail shaker with ice and shake. Strain and pour over ice into a tumbler and top with Soda Water Garnish with a Raspberry and Rosemary stick.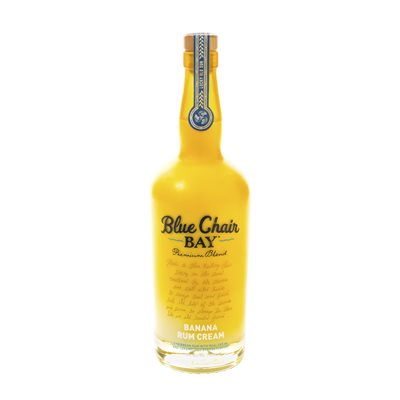 750ml
$32.99
Our Banana Rum Cream is a perfect blend of fresh, sweet, ripe banana flavors with surprising caramel and vanilla notes. Its warm and distinctive flavor invites you to kick back and relax.

Lounging by the pool

Inspired by the island lifestyle of multi-platinum singer-songwriter Kenny Chesney. This authentic Caribbean rum is blended with natural ingredients

Spiced Banana Daiquiri. 1 oz Blue Chair Bay® Banana Rum Cream, 1 oz Spiced Rum, 3/4 oz lime juice, 1/2 oz simple syrup, 10 oz ice. Blend to combine. Garnish with a lime wheel and cherries.