Featuring movie marathon snack pairings, stouts + stews, and winter wines you are going to love.
Calling all homebodies and comfort seekers – this is our time to shine. There is a season for 'hustle and bustle' and then there is cozy season.
And we are in full swing.
Bring on the blankets, fuzzy socks, and late nights by the fire.
It's also the time for getting snowed in with your favourite snacks, movie marathons, and a return to spicy drinks and dishes packed full of flavour.
When the days are short and the thermometer dips below zero – you know it's time to 'cozy up'.
MOVIE MARATHON PAIRINGS
Snacks + Drinks On Demand
Snow in the forecast? Snow problem! Storm days and movie marathons go hand-in-hand like some of our most beloved and iconic movie duos. (Doc and Marty? Samwise and Frodo? Harry and Hermoine? You get the picture.)
Hah – picture.
But have no fear, we've got you covered with snack and drink combos that are sure to pair perfectly with any of your tried-and-true double (or even triple) full length features.
So the next time a storm's brewing get ready to roll out the red carpet (er…blanket) for an award-winning movie - and snack - marathon.
S'moreos + Maple Irish Coffee
Yeah that's right – s'mores and Oreos come together in this recipe to make a melted chocolate masterpiece.
To make the s'moreos you'll need:
12 Oreos
12 marshmallows
12 squares of milk chocolate bar
Directions:
Preheat the broiler
Twist off the tops of the cookies
Arrange the cookie bottoms, cream-side up, on a baking sheet. Put a piece of chocolate on the cream filling and then top with a marshmallow, laying on its side.
Broil, watching closely, until the marshmallows are golden, about 30 seconds. Sandwich each with the remaining cookie tops. Eat while they're melted and gooey.
Pair them with Maple Irish Coffee ».
Chips + Taste of NB Beer
Mm..mm…no storm day is complete without storm chips! And nothing pairs better with storm chips (any flavour) than Taste of NB beer.
May we suggest:
Find more Taste of NB here.
Popcorn + Fireball Mule Cocktail »
You didn't think we'd forget the popcorn, did you?
Stovetop or microwave, with extra butter or without, you've got to hand it to popcorn – it steals the snack show every time.
However you like your popcorn (we aren't here to judge), we have the perfect cocktail to help wash it down. It's got just a hint of cinnamon spice and with only four ingredients, it's the perfect popcorn co-star.
---
STOUTS + STEWS
Tuck in – it's time for stew!
If you are new to stout, winter is the best time to try these full-flavoured, dark and heavy beers. The flavours of the stout combine beautifully with the aromatics of the stew to make a perfectly savoury pair.
We're fortunate to have a few locally-made stouts in our province and we're featuring five of New Brunswick's best.
(Along with a classic stew recipe because…we wouldn't want to leave you hanging.)
Serve this up with a fat slice of warm bread and a big spoon and you are all set for a cozy dinner in!
FIVE New Brunswick Stouts to Pair With Stew
Classic Homemade Stew
Prep Time: 30 mins Cook Time: 2 hrs 30 mins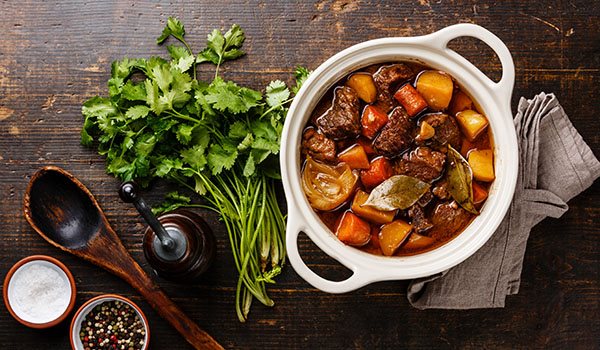 Ingredients
3 pounds beef stew meat
1 teaspoon salt
1 teaspoon pepper
3/4 cup flour divided
4 tablespoons olive oil divided
1 large onion chopped
4 cloves garlic minced
12 ounces stout beer divided
3 carrots sliced into thick rounds
3 parsnips sliced into thick rounds
4 potatoes cut into one inch cubes
8 cups beef broth
6 ounce can tomato paste
1 bay leaf
1 teaspoon dried thyme
parsley for garnish
Directions:
In a large zip top bag or bowl, add stew meat, salt, pepper and 1/2 cup flour. Seal bag and shake or stir together to coat meat with flour.
Over medium-high heat, add 2 tablespoons olive oil to large pot. Add half of stew meat and brown on all sides.
Remove browned meat with slotted spoon to a large bowl and repeat process, adding additional 2 tablespoons olive oil and remaining stew meat.
After all meat has been removed and set aside to rest, add onion to pot and sauté for 3-4 minutes.
Add garlic and let cook until fragrant.
Add half of beer to deglaze pot, scrapping the browned bits from bottom with a wooden spoon.
Add carrots, parsnips, potatoes, beef broth, tomato paste, bay leaf, thyme and browned meat and bring to boil.
Reduce to simmer and allow to cook over low heat for two hours. In a small bowl, whisk together remaining beer and 1/4 cup flour. Stir into stew until stew has thickened.
When serving, sprinkle individual bowls with parsley, if desired.
Hungry for more stouts? Check out our full stout listing here.
---
WINTER WINES YOU'LL LOVE
Cozy Up to a New Wine This Winter
The switch to a new winter season ushers in a brand new set of flavours along with it.
Heavier spices and full-bodied flavours replace the lighter fare of other seasons and help to set a moody culinary stage.
If you are looking to break out of your wine flavour routine and would like to find a brand-new seasonal favourite, check out the links below for some winter wines we think you'll love.
Get ready to explore varietals like Shiraz, Grenache, and Cabernet Sauvignon. These grapes lead the way in winter - but don't rule out an oaky Chardonnay or even a Sparkling VQA.
Sip a glass fireside or enjoy one surrounded by friends – with these suggestions, you'll be all set to cozy up to a brand new (to you) favourite today.
Head here for our full list of winter wines.
Visit the Experience section to see the current featured wines.
Still not sure which ones to try? Head to one of our stores and speak with a Product Advisor. They're always ready with custom recommendations and can help you discover a new winter wine to enjoy.
Still on the hunt for more suggestions?
Check out some of the limited releases from the World Wine + Food Expo – now in stores.