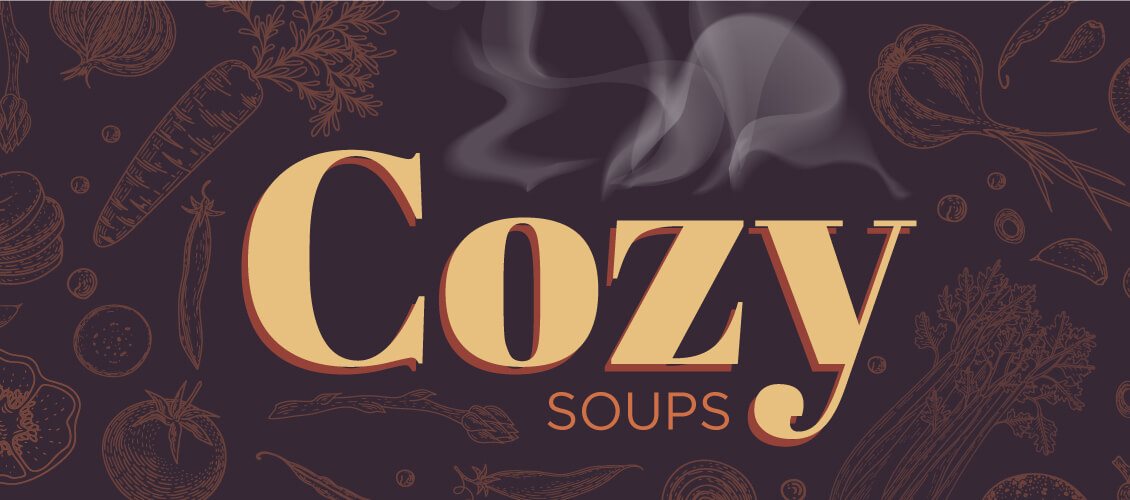 On those chilly winter days, nothing warms you up quite like a hot bowl of soup. Time to cozy up inside with one of these delicious recipes...hearty and flavourful, with a twist.
Sausage and potato beer cheese soup
1 cup carrots, chopped into small 1/2 inch cubes
1 cup celery, chopped
3 cloves of garlic
1/2 cup green onion chopped finely
2 tsp Italian seasoning
2 large potatoes, cut into 1/2 inch cubes
1 onion
3 cup chicken broth
1 lb of sausage
5 tbsp flour
1 cup cheddar cheese
1 cup heavy cream
1 can of Fine Company Blonde Lager OR Fine Company Session IPA
Cook sausage on medium heat and crumble/cut while cooking. In a large pot, using oil or butter, cook onions, carrots, celery on medium-high. Season with salt and pepper. Once cooked, turn to medium heat and add garlic and Italian seasoning. Add flour over the veggies and then slowly mix in beer, chicken broth and potatoes. Cover and bring to a simmer for about 10 minutes until potatoes are cooked. Stir in heavy cream and shredded cheese. Add sausage and allow soup to re-heat on low. Serve in bowl with green onion garnish and added shredded cheese on top.
French onion soup
2-3 bay leaves
3 cloves of garlic
1 lb yellow onions, chopped
8 cup beef broth
3 tbsp flour
1 tsp sugar
2 cups of gruyere or old cheddar
3/4 cup Adobe Reserva Cabernet Sauvignon
2 tbsp cooking oil
1 French baguette
Salt & pepper
Heat oil in a pan and cook onions, garlic and bay leaves on medium heat and covered. Uncover and raise to medium high heat and add salt and sugar. Cook until onions are a deep golden brown (about 20 min). Add red wine and bring to a boil. Reduce heat and summer for about 20 minutes. Sprinkle flour over onions and stir well. Add beef broth, stir well and simmer for about 30 minutes. Meanwhile, preheat oven to 325 degrees. Cut baguette into thin slices and bake for about 20 min until crisped. Flip half way and brush a small amount of oil on. Serve in a bowl and top with 2-3 croutons and cheese. Place under broiler to melt.
Tomato vodka soup with grilled cheese crouton
4 cups chicken stock
2 tbsp extra virgin olive oil
1 onion, finely chopped
4 cloves garlic, finely chopped
1 bay leaf
2 tbsp fresh thyme, chopped
Salt and pepper
1 cup Tito's Handmade Vodka
1 can crushed Italian tomatoes
3-4 fresh basil leaves
1 cup heavy cream
Croutons:
1 loaf sourdough bread
2 slices of old cheddar cheese
2 slices of swiss cheese
Butter
In a large pan heat the olive oil, over medium-high heat. Add the onion, garlic, bay leaf and thyme; season with salt and pepper. Cook until the veggies are softened, about 5 minutes. Stir in the vodka. Add the crushed tomatoes and and reduce to thicken a bit, 15-18 minutes. Add the chicken stock and the basil. Puree with a blender, return to a bubble and stir in the cream.
For the croutons, make a grilled cheese in a pan. Cut four slices of bread, butter one side. Place butter side down on pan and add one slice of old cheddar and one slice of swiss cheese to the bread. Cover with another slice, butter side out. Cook until golden brown, flipp and cook remaining side until golden brown. Cut into 6-8 pieces. Serve with soup.
Bourbon maple sweet potato chili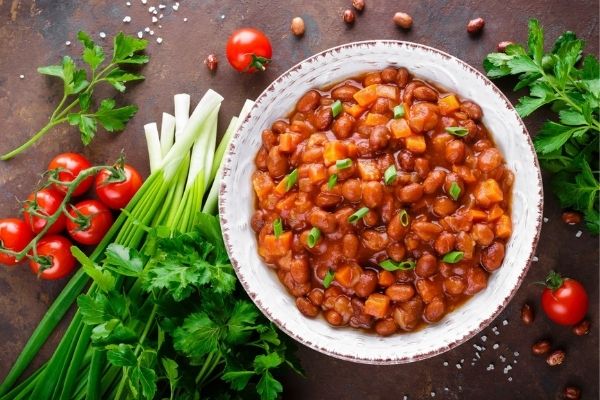 1 tbsp cooking oil
1 small yellow onion, thinly sliced
2 cloves garlic minced
3 cups sweet potatoes, peeled and cubed into 1/2″ pieces
2 cups vegetable broth
2 tbsp chili powder
2 tsp cumin
1/2 tsp paprika
1/4 tsp cayenne pepper
2 cans kidney beans, rinsed
1 can chickpeas
1 can diced tomatoes
1/2 cup Maker's Mark
2 tbsp maple syrup
Salt and pepper, to taste
2 green onions, diced
In a skillet, add oil and sauté onions for about 4 minutes, then add garlic and sauté for approximately 30 seconds. In a separate large pot, add all remaining ingredients and bring to a simmer. Once simmering, add in the garlic and onions. Allow to simmer on medium low heat for approximately 30 minutes. Serve in a bowl with nacho chips or a fresh baked roll.
Beef and whiskey stew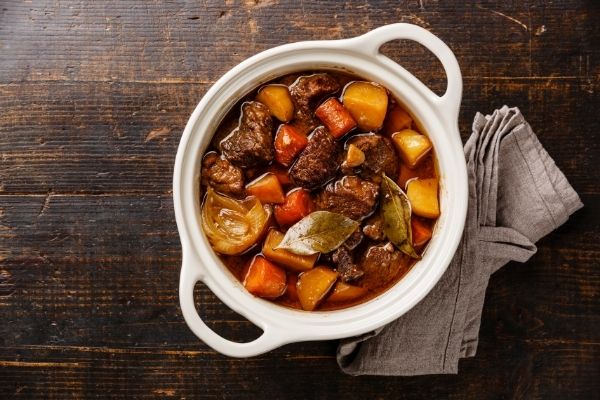 8 cups of beef broth
2 lbs of stewing beef
3 cups potatoes cut into 1 inch cubes
1 1/2 cups carrots, chopped
1 1/2 cups turnip, cut into 1 inch cubes
1/2 cup celery, chopped
3 bay leaves
2 tsp of garlic powder
1 large onion (peeled but not cut)
3/4 cup JP Wiser's Deluxe Canadian Whisky
1 tbsp oil
In a skillet, heat oil and cook stewing beef. In a large pot, add all ingredients except the whisky. Bring to a boil and then turn down to med heat and simmer until vegetables are all cooked, approximately 20 minutes. Add whisky and simmer for an additional 20-30 min.
Chipotle corn chowder
3 slices bacon, cooked and crumbled
2 chipotle peppers, finely chopped
4 cups corn
2 cups potatoes, cut into 1/2 inch cubes
1-2 jalapenos cut into slices
1/4 cup green onion
3 cups chicken stock
2 tbsp flour
2 tbsp butter
1 cup sharp cheddar cheese
1 cup heavy cream
1 cup Fleur Du Cap Chardonnay
In a large pot, melt butter and cook chipotle peppers and green onion for approximately 2-3 minutes on medium high heat. Stir in flour and mix well. Add potatoes, wine and chicken stock. Bring to a boil, reduce heat and add corn and heavy cream. Simmer on medium heat for about 20-30 minutes. Serve and garnish with jalapeno slices, cheddar cheese and bacon.