As much as we hate to say it, summer is winding down, which can mean shifting gears into a busier routine. These convenient recipes use few ingredients and are quick to put together, so you can spend less time preparing dinner and more time enjoying it!


Honey Garlic Chicken Stir Fry
2 tbsp oil, divided
2 cups broccoli
1 cup mushrooms
1 lb boneless chicken, cut into 1" pieces
3/4 cup honey garlic sauce
Heat 1 tbsp of oil in large skillet. Add in the broccoli and mushrooms, and sautée until tender. Remove from pan and set aside. Add remaining tablespoon of oil to the same pan. Add chicken and cook until crispy and caramelized. Add honey garlic sauce to the pan, along with the cooked broccoli and mushrooms. Simmer for 2-3 minutes. Garnish as desired. Serve with rice.
Baked Ravioli
5 cups frozen ravioli
2 1/2 cups marinara sauce
2 cups shredded mozzarella cheese
1/4 cup grated parmesan cheese
Preheat oven to 400 degrees and grease a 9" x 13" baking dish. Pour 1/2 cup of marinara sauce to create a thin layer on bottom of baking dish. Arrange half of the ravioli in a layer over the sauce. Top with 1 cup of marinara sauce and 1 cup of mozzarella cheese. Repeat layers. Sprinkle with parmesan cheese on top. Cover with aluminum foil and bake for 20 minutes. Remove foil and bake, uncovered, for 20 more minutes or until hot in center.
TIP: Make ahead, cover with foil and freeze (unbaked) for up to 3 months.
Pair it with:
Beef Enchiladas

1 lb ground beef
2 cans (10 oz each) enchilada sauce
1/2 cup chopped green chilies
6 flour tortillas (6")
1 1/2 cups shredded cheddar cheese
Heat over to 375 degrees and grease a 9" x 13" baking dish. In a skillet, cook ground beef over medium heat until thoroughly cooked; drain. Stir in 1/2 cup of enchilada sauce and chilies. Spread thin layer of enchilada sauce on bottom of baking dish.
In each tortilla, spread an even amount of beef mixture down the center and sprinkle with 1 tbsp of cheese. Wrap tortillas tightly, placing them side by side in the baking dish. Top with remaining enchilada sauce and sprinkle with remaining cheese. Bake 20-25 minutes.
Pair it with:
Vodka Lemonade

Combine ingredients in a glass over ice. Garnish with lemon.
Make it with:
Simple Rum Punch

2 oz orange juice
2 oz pineapple juice
2 oz rum
Combine ingredients in a glass over ice.
Make it with: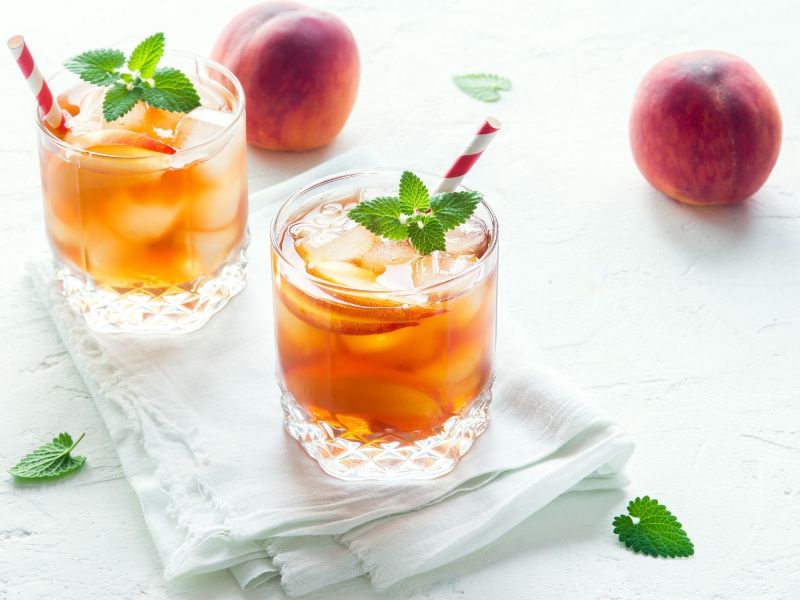 Bourbon Peach Tea

1 oz bourbon
2 oz peach iced tea
Ice
Combine all ingredients in a glass over ice.
Make it with: