Lagers
Lagers are known for being easy to drink, with a crisp refreshing taste. But what makes a lager different from an ale? Lagers use yeast that settles to the bottom of the tank during the fermentation stage of brewing, whereas ales use a top fermenting yeast. The yeast for lagers is fermented at a cooler temperatures and for a longer period of time than yeasts used for making ales. After fermentation, lagers are also stored at a very cool temperature for aging and to allow any sediment to settle.
Lager styles are lighter in colour and body, and are generally made with fewer hops, giving them a crisp taste. Sub-styles of lagers include Pale (or Golden) Lagers and Radlers.
Pale Lagers are one of the most popular beer styles, since they are refreshing and easy to drink. They have a lower ABV (alcohol by volume) % and are considered a sessionable beer (several can be consumed in one drinking session). American Lagers, International Pale Lagers, and Pilsners are all types of Pale Lagers.
Radlers are a beer style that originated in Europe, that is half beer and half fruit juice or lemon-lime soda. Like Pale Lagers, they are light, refreshing and have a low ABV. Typical Canadian Radlers use grapefruit juice, but many brewers are experimenting with different flavours.
The Lager Renaissance
Before the prohibition, German immigrants brought the invention of lager (cold-aged beer) to North America. Many small brewers produced high quality lager that became more popular than mass-produced ales. However, prohibition caused most independent brewers to shut down and after the prohibition, any surviving brewers went corporate. The switch to standardization and mass production meant the end of finely crafted lagers. As fast brewing methods and cost reducing preservatives gained popularity, lager quality declined, giving it a bad reputation.
As micro-breweries started to pop up, they initially offered mild ales to wean consumers off bland, mass-produced lagers. As tastes evolved, we saw more bold ales and hoppy IPAs hit the market. But many brewers have started offering finely crafted, balanced lagers- chartering the Lager Renaissance and a resurgence of consumers loving these crisp, fresh brews.
Try these refreshing Lagers:
Samuel Adams Boston Lager 473ml
Since 1984, Samuel Adams Boston Lager has used only the finest hand-selected ingredients to create our perfectly balanced and complex brew. Complex yet balanced between a backbone of caramel and toffee malt notes and a distinct noble hop character with hints of spicy pine and citrus.
$3.99
All other pilsners are a better or worse attempt to copy the original - the first ever Pilsner Urquell. The flavour of Pilsner Urquell begins with the intense taste of the Saaz hops, which blends with the malty sweetness of the barley to produce a harmonious bitterness and creamy body.
$3.69
Brooklyn Lager is amber-gold in color and displays a firm malt center supported by a refreshing bitterness and floral hop aroma. Caramel malts show in the finish.
$3.99
Wayne Gretzky Craft Brewing No 99 Rye Lager 473ml
Delicate floral hoppy bouquet, perfectly balanced with slight malt sweetness and a hint of zesty, crisp winter rye spice.
$3.99
Cavok Brewing Runway 11 Lager 473ml
Light American Lager. Very Light body with a medium high carbonation, malt forward taste. Light bitterness with a sweet slightly floral finish.
$3.95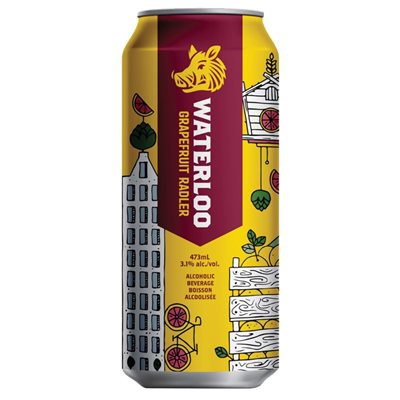 Waterloo Grapefruit Radler 473ml
Grapefruit Radler is a blend of real grapefruit juice and beer. This brews natural flavor enhances the German Hallertauer hops without masking its refreshing, yet slightly bitter finish. Small-batch brewed in the traditional German style. Crisp and Uber refreshing, it's a perfect drink for any occasion.
$3.49