How did this bold hoppy ale become the sweetheart of essentially every craft brewery? Where did it's distinct and bitter flavour come from and how has it become synonymous with the image of bearded, plaid wearing brew lovers everywhere? Well, as with most things in life, necessity.
Way back in the late 18th century, Britain was at the height of it's empire. It had outposts all over the world, one of which was in India. India's climate proved too warm for brewing at the time and so the East Indian Trading Co. would transport provisions from Britain to the outpost. However, even the transported brews were not lasting the long sea voyage.
Back in Brittan changes were happening on the brewery scene. The traditionally brewed dark in colour, light on hops ales were becoming lighter through different malting processes and the "October" beer was becoming popular among locals. This beer was meant to be cellared for two years and had a higher alcohol and hops concentration. All these factors made it the perfect export beer and it became a hit with those far from home. The India Pale Ale was born.
Fast forward to the craft beer renaissance of the 21st century and the IPA has maintained its place in the hearts of beer drinkers everywhere. It has been adopted by regions all over North America who have put their own spin on this hoppy classic, developing new styles and flavours all their own. West Coast, East Coast, Double, Black, New England, the list goes on. Each of these IPAs all have their own brewing history and style. I have listed some of my favourites below but there are so many more to try if you're a fan of this style.
FLYING MONKEYS SPARKLEPUFF TRIPLE IPA 473ML

Beer Fact: This beer is something to try - Three times dryhopped, triple the hop flavour and thrice the aroma!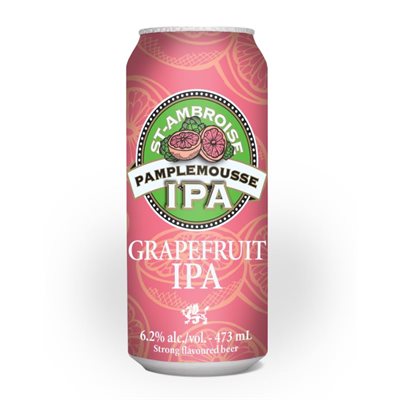 ST AMBROISE GRAPEFRUIT IPA 473ML

Beer Fact: A great example of a fruit forward IPA. Citrusy flavours and aromas made from a blend of malt, hops and grapefruit.
GRAYSTONE BREWING PATAGONIA IPA 473ML
Beer Fact: This locally produced American IPA is a great example of the style. It's a full-bodied IPA packed with tropical fruit and pine flavours.
GOOSE ISLAND MIXER 12 C
Beer Fact: The Goose Island IPA is the most awarded IPA in production, having been recognised by the Great American Beer Festival 6 times since 2000. The mix pack features this long popular award winner along with two of Goose Island's newer IPA recipes, making it the perfect hoppy mix pack. Alongside the original Goose Island IPA are Next Coast IPA and So-Lo falls. Unlink any other IPA you've had, Next Coast IPA has big, bracing, piney hop flavors that meet a tropical bouquet of Nugget, Citra, and Mosaic hops. There's a balanced bitterness that blends seamlessly into the light to medium body. While So-Lo falls is in the "light IPA" category do not think for a second that it will be light on flavour. It's a full bodied IPA with big citrus and herbal aroma notes, and a nice balanced bitterness while still light in calories.