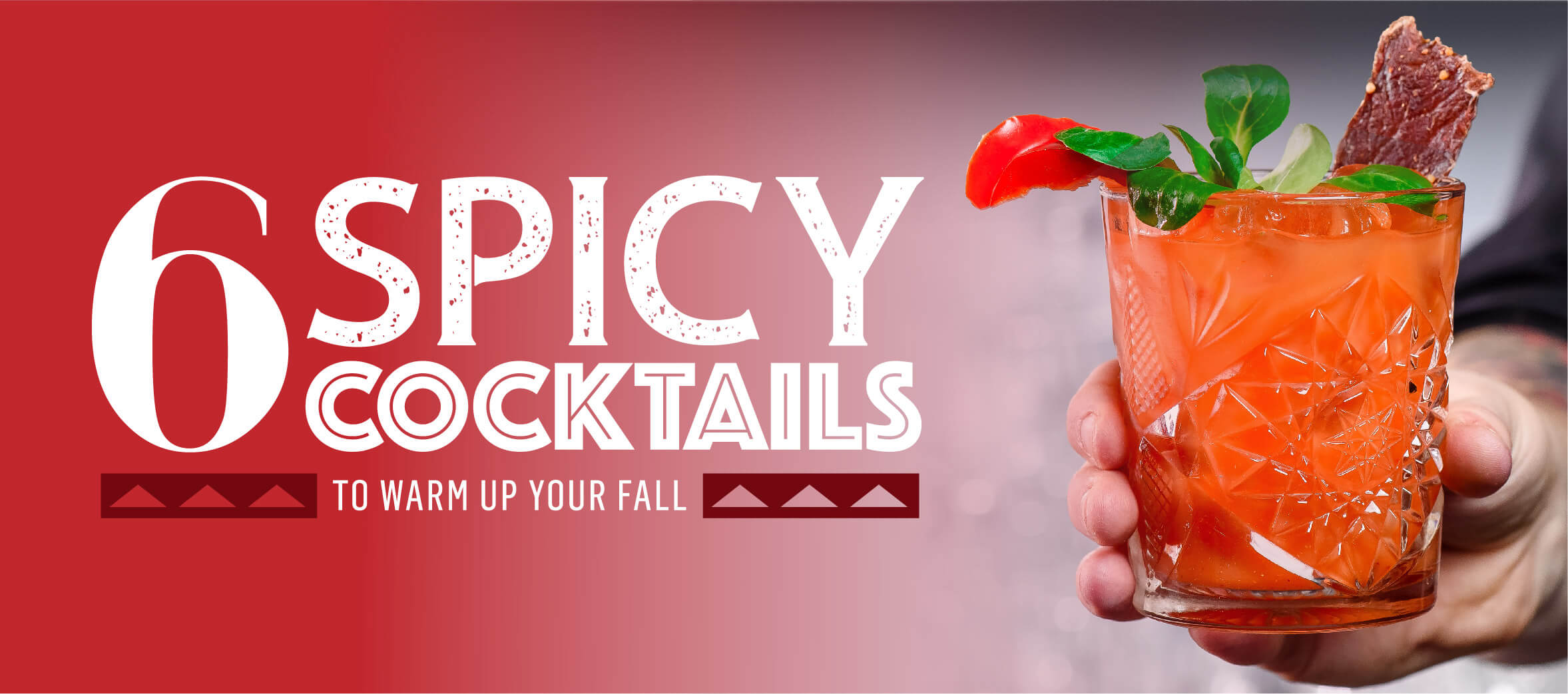 The nights are getting cooler, but that doesn't mean you have to! Try one of these spiced up cocktails to turn up the heat.
Looking for mocktail recipes? Click here.
The Angry Mule
serves 1
1 oz Tito's Handmade Vodka
1/2 cup ginger beer
1 fresh jalapeño
2 limes slices
3 dashes Angostura bitters
Place 2-3 slices of jalapeño, 2 slices of lime in the bottom of a copper mug or glass. Add 3 dashes of Angostura bitters and muddle. Fill glass with ice and pour in the 1oz of vodka and fill the cup with ginger beer. Stir and serve!
Want to turn up the heat? Add fresh jalapeño slices and ginger root to your vodka the night before you are serving your drinks to make a jalapeño ginger infused vodka.
Cayenne Paloma

serves 1
2 oz Casamigos Reposado tequila
1 cup grapefruit juice (freshly squeezed if you have the time)
Lime slices
1 Tbsp sugar
1 Tbsp salt
1/4 tsp cayenne pepper
Using a lime wedge rim the glass with lime juice and dip in a mixture of the salt and cayenne pepper. Fill glass with ice. Add 2 oz of tequila, 1 tbsp of sugar (more or less, depending on how sweet you like it) and fill the glass with grapefruit juice. Stir and serve with a sprinkle of cayenne.
Want to turn up the heat? Make a hot pepper simple syrup using 1/2 cup of sugar, 1/2 cup of water and 1/4 tsp cayenne pepper simmered on the stove and then cooled. Use in place of the sugar to your desired spice level.
Michelada

serves 2
12 oz Corona Extra
12 oz clamato juice (or tomato juice)
1/4 cup fresh lime juice
1 Tbsp Worcestershire sauce
1 tbsp soy sauce
2 tsp hot sauce
1 Tbsp salt
1/2 tsp chilli powder
Rim each glass in lime juice using lime slices or left-over lime rinds from juicing. Mix salt and chilli powder in wide shallow dish and dip the glass to rim it in salt mixture. Fill each glass with ice. Divide Worcestershire sauce, soy sauce, hot sauce, and lime juice between the two glasses. Add 6 oz each of beer and clamato to each glass. Stir well and garnish with a lime slice.
Want to turn up the heat? Just add a couple extra dashes of your favourite hot sauce. We used Tobasco, but we heard some daring folks tried it with ghost pepper sauce! We however, do not recommend this if you would like to keep your taste buds.
Maple Cinnamon Whiskey Sour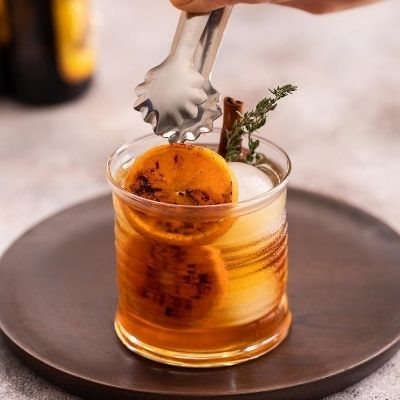 serves 1
1 1/2 oz Basil Haydens 8 YO
1 oz fresh lemon juice
2-4 tsp maple syrup (or to taste)
Pinch of ground cinnamon
Add ice and all ingredients to a cocktail shaker. Shake well and serve over ice, garnish with a cinnamon stick.
Want to turn up the heat? This one is a bit tricky because the spice is a little more mild in this cocktail and mostly comes from the cinnamon. However, to give it a small extra kick you can add some cracked black pepper and/or ground cloves, to compliment the flavours.
Lava Flow
serves 4
6 oz Captain Morgan Original Spiced Rum
10 oz strawberries
8 oz pineapple juice
8 oz coconut milk or cream
2 cups ice
Blend together 6 oz rum and 10 oz of strawberries Blend to a puree. Transfer to a pitcher. Clean & wash out blender. Add 8 oz pineapple juice, 8 oz cream of coconut, & 2 cups ice. Blend until smooth. Divide strawberry rum puree among 4 serving glasses. Pour remaining pineapple mixture into glass. Garnish with a pineapple wedge.
Want to turn up the heat? Add 2oz white rum to your pineapple blend
Spicy Gin Caesar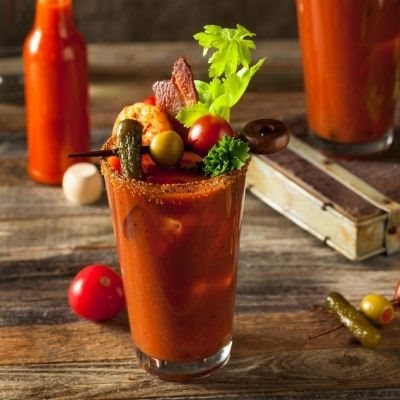 serves 1
2 oz Aviation American Gin
6 oz clamato juice
Splash of olive or pickle brine (optional but delicious)
3 dashes Worcestershire sauce
3 dashes tabasco sauce
Juice of one lime wedge
Salt & pepper to taste
Rim glass with lime wedge and celery salt. Fill glass with ice cubes and top with the 2 ounces of Gin. Add the Worcestershire, tabasco sauce, salt & pepper, lime juice and olive brine. Fill glass with clamato and stir well. Garnish with olives, cucumber, lemon, lime, bacon, lobster tail, sliders, pickles, spicy beans or anything else your heart desires!
Want to turn up the heat? Pick your favourite hot sauce and add a couple extra splashes or pour in some brine from a jar of spicy beans.